Main Content
Today's Daily Deac comes to you from the official guest blogger of the Wake Washington program, Emily Beeland '19
I cannot believe that Thanksgiving Break is next week – it feels like just yesterday I was moving to D.C. for the start of the semester. The past couple of months have had a lot of ups and downs, and I know that the final three weeks will be just as chaotic as the first eight; but through it all, there have been multiple things that have helped my fellow classmates and I get through the rough days. Since it is almost Thanksgiving, I figured why not do a "What I'm Thankful For: Wake Forest and Wake Washington Style". It's a little humorous, a little serious, and a little bit of insight into the mind of a Wake Forest and Wake Washington student.
What I'm Thankful For:
My bed at the end of a long Monday or Wednesday after I've had work and class
Ms. Jennifer Richwine – she is the person behind everything here at the Wake Washington Center. Between finding speakers for our class, setting up cool field trips, and just helping us connect with Wake alumni, she has made our semester that much greater. Thanks Jennifer!!
The convenience of the Pit – no, seriously. You do not understand just how great the Pit is until you are no longer there. It gets really tiring being an adult and having to cook your own meals.
On another food related note – home cooked meals. Probably one of the best things about Thanksgiving is all the good food!
Dr. Katy Harriger – Dr. Harriger is the resident professor here for this semester of the Wake Washington program. She is an absolutely amazing professor, and I highly encourage anyone who hasn't had one of her classes to try to do so. I know a lot of us Wake Washington students joke about how she is the "mom" of the group, but it kinda is true. Dr. Harriger is always there if you need someone to talk to, be it school, work, or personal stuff. Plus, she has a wicked sense of humor that is always great!
Our finger puppet of Ruth Bader-Ginsburg – nothing like a finger sized version of RBG to help get you through reading constitutional law
Chick-Fil-A. You don't realize just how much you rely on the Old Gold Chicken Nugget meal until you are no longer near a Chick-Fil-A.
The coffee machine in our apartment lobby – the coffee is questionable at times and there's a 50/50 chance of it being broken, but if it works, it's a pretty decent cup of free coffee which is always nice during those late night study sessions
One of my favorite coffee shops – A Baked Joint – that helps me get through those groggy morning (yes, that is really the name, stop laughing)
All the people in our apartment building who have dogs – you make a college kid's day when I get to pet a ball of fluff
My internship – I get to work with some of the nicest people, practice my German, do some pretty amazing jobs, and have fun while doing it.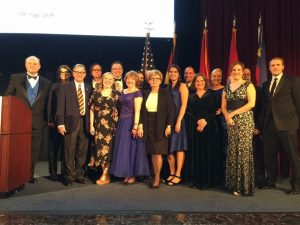 The German-American Heritage Foundation Staff, Board Members, and Interns pose for a photo at the annual gala to honor the 2017 Distinguished German-American of the Year, South Carolina's Secretary of Commerce Robert M. Hitt, III
All the Alumni that I have met and/or reached out too – it has been an absolutely great experience being able to talk to all of the Wake alumni here in D.C., and I love how there are Deacs in all types of jobs be it consulting, on the Hill, in the Think Tank community, or even with the National Park Service. The conversations that I have had with some of the alumni are ones that I will definitely cherish in the future.
Momofuku Milk Bar – a couple of Wake Washington students found it one night and it serves some great "cereal milk" milkshakes.
Places such as Rock Creek Park or Great Falls National Park – the daily non-stop hustle and bustle of the city can be a lot, but finding the places such as those parks allows you to step away from the constant noise and drama of the city, and it is a great way to recharge and relax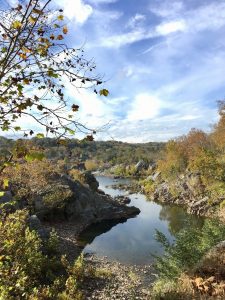 A gorgeous fall day in Great Falls National Park along the Potomac
The fact that I am in Washington D.C – ever since I was young, I dreamed of one day living in this city and it's incredible to me that it is actually happening
The opportunities that I have had this semester, whether it is all the museums that I have had the chance to explore, the people I have met, the important places I have visited, or the different events I have been able to go to – as much as I love Wake and W-S, there is not really anything like this there, so being able to have these experiences and grow as a person is something I am incredibly thankful for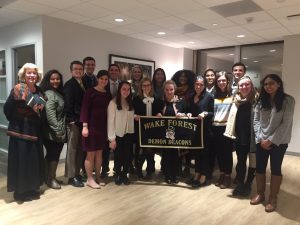 The Wake Washington Students and Dr. Harriger pose for a photo with former-Secretary of State Madeleine Albright
Recent Posts
January 21, 2021

January 20, 2021

January 19, 2021