Main Content
Class of '27 is out of school today because his school is observing Veteran's Day, so I am home with him.  Two brief topics to cover:
For P'21s who have first year students, there is an opportunity for high achieving students interested in a career in business to apply to the Kemper Scholars program. There are some requirements students have to meet, but the benefits to students who are selected are really impressive – summer internship, conference, and more.  Full details are here.
And because it is Veteran's Day, I want to acknowledge that too.  Here is a photo from a past Veteran's Day service on campus.  For all of our current and past servicemen and women in the Daily Deacdom – especially our current and former ROTC cadets – I thank you for your service. And for those who are deployed in harm's way, I pray for your safe return as soon as possible. Thank you for your service and sacrifice.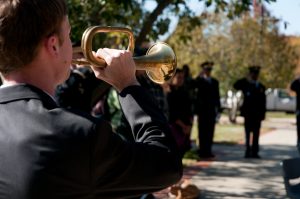 Recent Posts
August 7, 2020

August 6, 2020

August 5, 2020