Main Content
It is a picture-perfect day on campus today. Temps in the mid 70s, sunny, a light breeze that wafts some of the leaves out of the trees. Really couldn't be nicer. Pics to prove it below 🙂
A few items of business: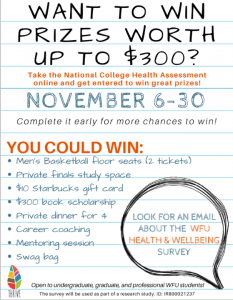 We need your students' help in completing the National College Health Assessment. As a grad school nerd, I can tell you that when doing surveys, the more data you get, generally the better your results, so urge your Deacs to look for an email about the WFU Health and Wellbeing Survey starting 11/6 or later. As an incentive to completing it, they will be entered to win some really nice prizes. Details below.
Calling all Wake Forest University undergraduate, graduate and professional students!  Beginning November 6, Wake Forest will launch the National College Health Assessment to better understand and promote health and wellbeing on this campus.  Please look for a personalized link in your Wake Forest email account and complete the survey as soon as possible!  Participation in this survey is voluntary and will have no impact on your coursework. Thank you for helping to make a better Wake Forest! This survey will be used as part of a research study. ID: IRB00021237. All students who complete the survey will be entered into a weekly drawing for one of the following prizes.  Students will be entered into each subsequent week's survey for additional opportunities to win.
I neglected to tell our P'21s that there is a new Weekly Message for First Year Families up this week – it's about your Deacs coming home for break, and some of the considerations of how to have your not-quite-adults home after a lot of freedom here.
And for our alumni families in the Daily Deacdom, we have some terrific pictures from the Legacy Family Dinner during Family Weekend that you might enjoy.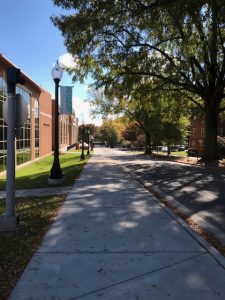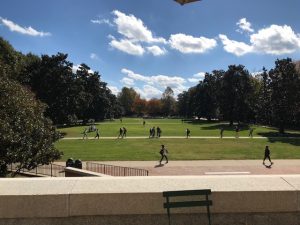 Recent Posts
August 7, 2020

August 6, 2020

August 5, 2020