Main Content
For the P'18s in the Daily Deacdom – and perhaps other parent years too – there is a webinar coming up that might be of interest to you:
Support Their Five: Setting up Young Adults for Success after College
In this 45 minute webinar we will explore some of the key challenges and growth opportunities facing young professionals as they move from college to life after college, and how you can support them, including:
– Understanding the disconnects and challenges unique to the move from college to life after college for today's young adults
– Exploring the key competencies that young adults need to master to be successful in their first five years after college
– Identifying 5 tools and strategies you can use to support their growth and development
This is a great – and FREE – opportunity to learn from one of our campus experts, Allison McWilliams ('95) of the Mentoring Resource Center on campus.  As any parent or family member knows, we never stop loving and supporting our children, even when they are adults 🙂 so this is a wonderful way to learn more about how to help your Deacs after college.
To register, go online here.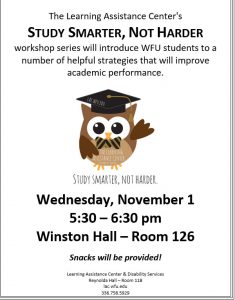 And here is one for your students: the Learning Assistance Center will be hosting another Study Smarter, Not Harder session this Weds. 11/1 from 5:30-6:30 in Winston Hall, Room 126. This will help your Deacs learn strategies to be more effective in their studying.
Recent Posts
August 12, 2020

August 11, 2020

August 10, 2020