Main Content
Today is Project Pumpkin, one of the best days of the year. Student volunteers have planned and organized a ton of carnival games, they are decorating the Quad as I type, and will be welcoming a ton of kids (1,000 is not uncommon in past years) to trick-or-treat.
This morning I was on the Quad for the start of the planning.  The rental company was just unloading tables, which are laid all over the Quad and labeled with the student organization/group that will be staffing that table. I did not take a picture of this (though I wanted to) but I saw a male student in a Tigger costume and a female student in what I think was Wonder Woman tights and a top. They were super cute.
Y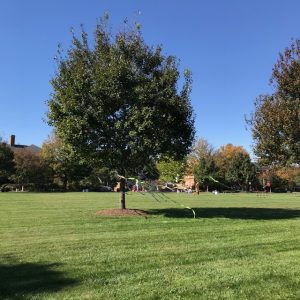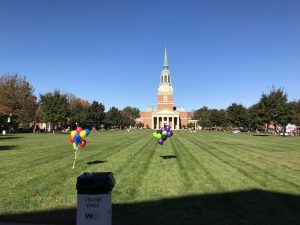 ou may or may not be able to get a sense of Project Pumpkin via the Quad Cam. It should still be going on at 5 when the Daily Deac gets emailed to subscribers. There are purple and green streamers in the Quad trees, balloons, and more.  These pics don't do it justice because they were just getting started with the setup.  But this will be a wonderful show of Pro Humanitate spirit.
And a program note from the School of Law:
WFU School of Law's online Master of Studies in Law (MSL) invite parents, families, and friends to a virtual classroom experience brought to you by our renowned Wake Forest Law School faculty. Learn how our program teaches the working professional to more efficiently and effectively navigate risk, compliance, and increasing regulation in today's workplace.  Engage with the MSL online platform, staff and professors. Learn more about the MSL online Master's Degree with 3 professional tracks: Business Law and Compliance, Human Resources, and Health Law & Policy – or our 4 Graduate Certificates. You may even find the answers to complex legal questions such as "is a burrito a sandwich?" Watch their video here.
Recent Posts
January 21, 2021

January 20, 2021

January 19, 2021