Main Content
Well, Wake played a hard-fought game against Florida State on Saturday night and lost within the last couple of minutes.  Still, it was some great football and a loud crowd, which bodes well.
Few announcements to make you aware of:
In addition to the flu shots being offered tomorrow (see news story), the Student Health Service will be offering flu vaccines on a walk in basis from 9:00-4:00 Monday through Friday beginning October 4th.  The cost of the vaccine is $30 which will applied to the student's account.  We will also be holding clinics in Study Room 225 in the ZSR library from 5:30-7:00 on the following dates: Oct. 4, 10, 17, 18, 24,  and 25.
Editorial aside: everyone has their own beliefs about the value of vaccinations, but having been felled by a flu as it came through Wake several years ago, I promise you that your Deacs don't want it.  Urge them to consider the flu shot, as well as good general sanitation practices (hand washing, sanitizer, not sharing cups or food, etc.)  Also a good time to remind you that if your Deacs is 18, he/she is protected by HIPPA, so if it is important to you to talk to his/her doctor or nurse, your Deac will have to authorize the Student Health Service to talk to you if he/she is sick.  This is one of those things that is important to talk about before your student is sick.  And that authorization is for each illness, so they have to give consent for subsequent illnesses if they choose.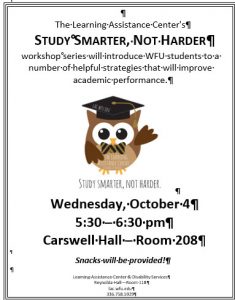 Off of illness.  In academic support news, there is a Study Smarter, Not Harder event this Wednesday, sponsored by the Learning Assistance Center – see flyer.
Midterms are approaching, which means your students could all use some TLC. A care package with their favorite goodies would be a nice touch.
Leaves are starting to change.  I predict it will be gorgeous by Family Weekend.
Make it a great week, Deac families!
Recent Posts
August 12, 2020

August 11, 2020

August 10, 2020