Main Content
It is a gray and rainy day. Neither cool nor hot. But a fairly steady rain that is small drops and a misty feel. When the wind gusts, it blows some of the leaves out of the trees, so in moments of bluster it is like a ticker tape parade. I walked by a leaf on the ground that was such a bright color orange that it was almost unnatural looking – I thought it was fake. Not fake, totally real, beautiful, and spectacular.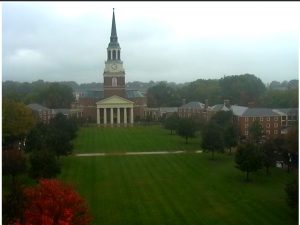 Please note the gorgeous maple in the lower left of the screen grab.
There was an article I saw today from the New York Times written by a person teaching writing. She reflects on what she wished she'd done differently as a student, now that she is seeing life through the eyes of a faculty member. If you don't have a subscription, the Times gives you a certain number of free articles a month if you want to read it.
Finally, on a grey day where motivation is hard to find, this week's Message for First Year Families is related to procrastination. It's about time management and overcommitment.  Enjoy!
Recent Posts
August 12, 2020

August 11, 2020

August 10, 2020