Main Content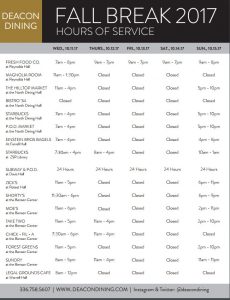 Fall Break is this Thursday-Friday, and we are starting to see signs of students sneaking out early (fewer students walking around on campus, easier to find parking spaces). Important info for students who are staying on campus: know which dining facilities are open (and at which hours) and plan ahead to shop for food for your room if you need it.  Click to enlarge the graphic showing dining options.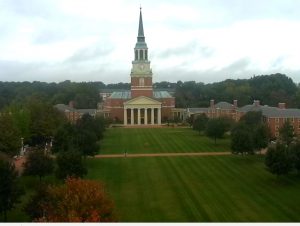 It has been unseasonably warm here and very, very muggy. Today is overcast but it is still expected to be warm. I took a peek at the Quad Cam and happened to catch them mowing the grass – you can see the stripes from where it has already been mowed on the right side, vs. the yet unmowed left.  The leaves are beginning to fall off the trees, though not yet in enormous proportions. We need another week or so and a good strong wind to bring a lot of them down. Speaking of the weather and the wind, the news of the wildfires in both northern and southern CA is very concerning. Please be safe, my CA Deac families!
If your Deacs are staying in town for Fall Break and are looking for things to do in town – or if you want some suggestions of things to do the next time you come to Winston-Salem, here are a few ideas:
Take a hike – within about 45 minutes' drive from campus is Pilot Mountain and Hanging Rock, two great state parks.
See an indie flick – a/perture is a theatre downtown that shows independent films, documentaries, and foreign films.
Eat something great – and there are a lot of choices here. Some of my favorites are: Cin Cin (amazing burgers), Camino Bakery (coffeehouse with great bread and pastries and a good hangout spot), Atelier on Trade (if you want proper French pastries), Mozelle's (beautifully done Southern bistro food), the Porch (Tex Mex with queso to die for).  There are others.
Explore the urban campus – visit Wake Downtown and Bailey Park – if your Deacs have not discovered our new downtown campus and all its wonderful green spaces, this weekend would be a great time to try it. Bailey Park frequently has food trucks there (highly recommend La Vie en Rose if you like crepes)
Get your art on – students get in to Reynolda House Museum of American Art for free (and can get a free ticket to see the Georgia O'Keeffe exhibit by going online here), or in the Arts District on Trade street downtown (bonus: Pride Winston-Salem is this Saturday the 14th in the Arts District, and it is always full of food and music and vendors and allies).
Take time for self-care – not having class means that students have time to sleep late, do yoga or get gentle exercise, meditate, listen to music, or whatever else helps recharge their batteries.
Finally, a funny.  I got an email today from Tapingo, which is a mobile commerce app used on campuses. Today they ranked the Top 5 Unusual Mascots – and Wake is in there 🙂

— by Betsy Chapman
Recent Posts
August 12, 2020

August 11, 2020

August 10, 2020