Main Content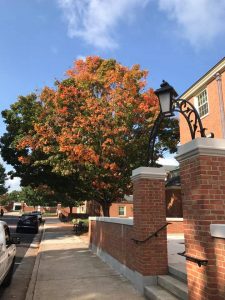 I took a walk up on campus earlier today and saw my first true sign of fall.  This is a lovely little tree outside Poteat Residence Hall. If you have not experienced a NC fall before, they can be pretty spectacular.  Family Weekend is perfectly timed this year, as our typical peak foliage is in the late October-early November timeframe.  I was not a bio major so I can't say for sure whether we had the right balance of water and sun this year to make for maximum beauty of our trees, but I am crossing my fingers.  Here's a few pics from previous years – a glimpse of what I hope you and your Deacs might see.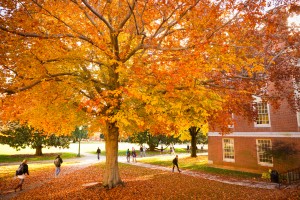 Have you all discovered that our good friends in the University Counseling Center also have started a blog?  It's on the bottom right corner of their main web site.   Dr. James Raper, the UCC director, has posted a blog today about appointment availability that is a good read, as it gives some color to how appointments are scheduled and what the typical wait time is for a first appointment.
Finally, for students looking to find an activity – or who are still trying to find a niche – this came to my inbox today and thought I might pass it on.
—————————–
The WFU PEERS program (Peers Educating, Engaging, Reaching and Supporting) is accepting applications until Friday, September 22nd.
The program is an opportunity for students to become a Certified Peer Educator through a National Organization, and utilize their interests to develop into a strong leader within the campus community through empowering and educating their fellow Deacons. Wake Forest University PEERS covers a wide variety of topics related to wellbeing through programs, initiatives, presentations, and collaborative efforts among campus partners. Through this initiative, students not only gain a resume booster, but also personal and professional skills that will set them apart in their future endeavors.
There are several groups that cover a wide range of interests within the program. Groups include: Nutrition and Mindful Consumption/Physical Wellbeing, Mental Health, Invisible Disabilities, Alcohol and Other Drugs, and the Women's Center Leaders who Educate, Advocate, and lift Voices for gender Equity (L.E.A.V.E.s).
For more information, or to apply, visit: http://thrive.wfu.edu/programs/peer-education/
Recent Posts
August 7, 2020

August 6, 2020

August 5, 2020