Main Content
After a couple of days of grey and rain, the sun is out again and campus is splendid today. It's warm-ish but not too hot, sunny, beautiful skies. I've been jammed up in my office most of the day but here is a pic from the Quad Cam.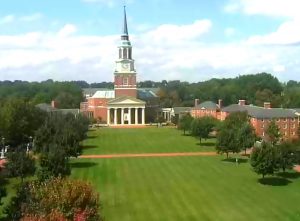 Tomorrow night (Thursday) at 7:30 is The Bobs, an a cappella comedy troupe here as part of the Secrest Artists Series.  The SAS is *free* for your students with ID. And the rule of college is that if something is free and/or if there is free food, students should go 🙂
Also scheduled for 9 pm tomorrow is the Homecoming bonfire on Davis Field.  Homecoming events will be held all weekend, and we are excited to invite back all our alumni, but especially those in class years ending in 2s and 7s, who are in their official reunion years.
Hard to believe that your Deacs who are students now will someday come back to celebrate their 5th, 10th, or 50th reunion.  Here's a preview of what that might look like 🙂
Recent Posts
August 7, 2020

August 6, 2020

August 5, 2020