Main Content
On September 28th, one of the most beloved campus traditions will take place: Hit the Bricks.  Teams of students (and some faculty and/or staff) run or walk laps on the Quad. The runner (or walker) has a baton with a barcode, and each time they go a full lap and scan in, that team earns one point.  If you wear a Hit the Bricks backpack (which is markedly heavier, I can tell you from personal experience), your team earns two points.  Batons must be exchanged to team members wearing a wristband in the designated transition area.
This is a day full of friendly competition between student teams, both Greek and non-Greek alike, as well as faculty and staff. There is music, announcements, motivational speeches, and the occasional surprise lap; one year you got extra points for wearing a costume (I ran in my wedding dress).  Students set up chairs in the Quad to watch their teammates and rest while they wait for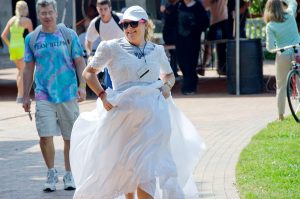 their shift.
My colleagues working with Hit the Bricks sent me this press release about this year's event:
Marking its 15th Anniversary as one of Wake's longest philanthropic traditions, Wake Forest University students, faculty, and staff will compete in "Hit the Bricks:" an eight-hour relay race to raise money and awareness for cancer research. This year, on September 28th Teams of 10-15 will run laps from 11 am-7 pm around the upper quad.  Hearn plaza is overcome with energy and excitement as all sides of the Wake Forest community unite to support the advancement of cancer research. Last year 118 teams comprised of 1,410 participants ran a total of 30,566 laps and raised $59,843 for cancer research. This year's event is expected to be the most successful since Hit the Bricks' founding in 2003.
All proceeds raised are donated to the Brian Piccolo Cancer Research Fund, which supports the Comprehensive Cancer Center at Wake Forest University Baptist Medical Center. Brian Piccolo Cancer Research Fund is a unique cause established by WFU students in 1980 in memory of the charismatic Wake Forest All-American football player, Brian Piccolo, who passed away at age 26 from cancer during his career with the Chicago Bears. Since 1980, Hit the Bricks along with other student-led events  has raised over $2.5 million for the fund.
President Nathan Hatch, Vice President Penny Rue, student athletic teams, and other special guests will participate in Hit the Bricks throughout the day along with entertainment, food and competition activities. The teams will compete in an all-day relay race to complete the most laps around the plaza and raise the most money for the Piccolo Cancer Fund.  At 7 p.m., participants will take a final silent remembrance lap for cancer victims and survivors, concluding with a luminary ceremony in front of Wait Chapel where two Wake students will share their personal story of their battle against cancer.
For more information about Hit the Bricks and the Brian Piccolo Cancer Research Fund, please visit www.wfuhitthebricks.com online.
This is one of THE BEST DAYS on campus all year. Hopefully your Deacs will get involved – either by forming a team themselves, or just by going up and watching the runners/walkers, or being there for the final silent lap. It is Pro Humanitate at its best.
Recent Posts
August 5, 2020

August 4, 2020

August 3, 2020