Main Content
With the opening of the Wake Washington Center and the Wake Washington program, I thought it would be fun to hear more about the experiences that our students are having in DC. Thankfully Emily Beeland of the Class of 2019 was willing to give us a taste of what Wake Washington is like.  So today we feature her as our guest blogger.  And since she is showing us what it is like to be at Wake in DC, I'll share the most recent Where In the World Are Wake Foresters? pictures at the very end.
————————-
A Day in the Life of a Wake Washington Student – by Emily Beeland '19
8:30 – 9:00 AM
I'm one of the lucky ones in that I don't have to be at my internship until 10:30 am each day, so I get to sleep in most mornings until around 9! All of the Wake Washington students, plus Dr. Harriger (our resident professor) live in apartments in the Chinatown area; the student rooms are four people per room, so I live with three other girls. We all get along great, and this is my first time living in an apartment setting, so I'm definitely enjoying this taste of "adult life."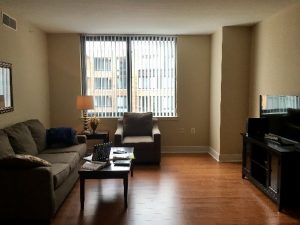 Example of the living space of the apartments that we are living in 
10:15 AM
Time for "work"! My internship is walking distance from the apartment, so I don't have to spend money on the metro every morning, which is really great. I am an intern at the German-American Heritage Foundation & Museum – I was very happy to land this internship as I have studied German language and culture for almost 8 years now, and I was glad to be continuing that interest while I was away from campus.
At work, I do a variety of tasks, but mostly help out with the running of the Foundation. At the current moment, I am splitting my time between two main projects – one is the annual Gala the Foundation has coming up at the beginning of November, so it is all hands on deck at the moment to make sure that everything is ready in time; the second is a personal project that will be a listing of places around the District and surrounding areas related to German-American heritage and a way to connect them through a 'corridor' of sorts.
One thing that I think that is neat about the Wake Washington program is that yes, this semester we do have a focus on politics, but we are not expected to spend every single moment of our time living and breathing it – my internship is one that is not extremely political, and I have friends who are interning at places like The Kennedy Center and the White House Historical Association; this program allows you to make it into what you want it to be.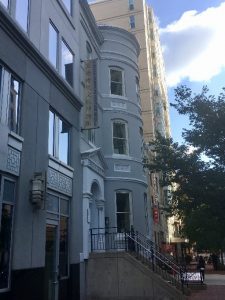 My place of work – German-American Heritage Foundation
5:00 PM
Today is Wednesday, so once I get off at 5, I have to take the metro over to Dupont Circle for class at the Wake Washington Center. Let me just say, the center is absolutely amazing, and there is still work to be done! It may not be the same as sitting in Campus Grounds or ZSR on campus, but it is pretty close.
I am taking two classes this semester – Constitutional Law and Public Policy. Dr. Katy Harriger teaches the classes, and we have class for two hours on Monday and Wednesday nights. Since it is Wednesday, I have public policy tonight, and this class is one of my favorites because the discussions that we have are primarily student-led.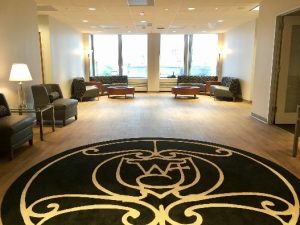 The in-progress Wake Washington Center – I can't wait to see the finished product!
9:00 PM (ish)
Finally returning to the apartment! Class days can be very busy, but they can also be a lot of fun! Typically, we will all just spend the rest of the night relaxing and preparing for work the next morning.
The Wake Washington program is special in that it allows us to get a taste of what life is like once we graduate – we basically have a 9-5 job, we live in the city, and we are in charge of our meals. The program can be stressful yes, but so can normal classes on campus. Wake Washington is a ton of fun with some of the best students, faculty, and alumni that Wake has to offer, and I am excited to see what the rest of the semester brings!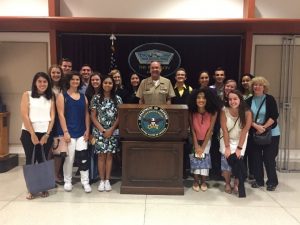 Wake Washington Students and Dr. Katy Harriger with the Surgeon General of the U.S. Navy Forrest Faison ('80)
And from the Where In the World Are Wake Foresters? files…I bring you Victoria Bolton '19 and Mike Bolton P'19 in Passau, Germany, and Riley Mistrot '19, shown here at the Dead Sea.  Keep those pics coming by sending to parents@nullwfu.edu (and yes, ignore the 'null' that shows up in the emailed version of the Daily Deac, or just hit reply to the email and it will work!)
Recent Posts
August 7, 2020

August 6, 2020

August 5, 2020