Main Content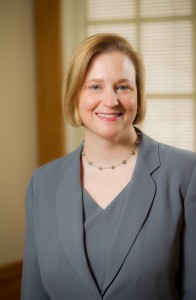 Today's Daily Deac is a guest blog from Allison McWilliams '95, Assistant Vice President, Mentoring and Alumni Personal and Career Development
College is an awesome, exciting, life-changing time of new experiences, new friends, new classes and interests. It's also an overwhelming, challenging, and sometimes frustrating time of new experiences, new friends, new classes and interests. We know, as the adults who have been there, that all of this – the exciting and the challenging – is important to the move from adolescence into adulthood. And we must recognize that college students may not be fully prepared for that move. Indeed, a big part of this transition is acquiring the skills, the knowledge, and the experiences that allow one to move out into the world and to begin to create a life as a successful young adult.
Here at Wake Forest, we created the Office of Personal & Career Development as a resource to help your student on his or her path, as well as to support others in our community – staff, faculty, alumni, parents – who serve as mentors and wise counselors to our students. Before we ever get to the point of talking about future careers, jobs, or graduate schools, we start by getting to know your student as a person. What does he or she find interesting? Which classes are piquing his or her interest, and why? How is he or she getting engaged with the campus, though clubs, volunteering, study abroad, the arts, or other co-curricular and extra-curricular activities? What is he or she starting to learn about personal values and beliefs, and how do these things impact decisions and choices?
As a parent or family member of an undergraduate (or graduate) student, try to put yourself in the place of mentor or coach. Think about how you can ask some good questions and engage your student in conversation, so that he or she begins to learn how to make his or her own choices, and to take ownership for them. By the time they graduate from Wake Forest, we want all of our students to know how to do four things:
be intentional about the choices and decisions that they are making
set and pursue goals for growth and development
seek out feedback from mentors and wise counselors to inform those goals, choices and decisions
reflect on what they are learning and how to use that knowledge in the future. You can play a critical and important role in this learning process simply by asking questions and listening.
Once they leave Wake Forest, the growth and learning does not end, and neither does our support. This past spring we created the Alumni Personal & Career Development Center to provide tools, resources, and guidance to alumni as they create their lives after college. In particular, we are focused on our youngest alumni, those who have just made this transition, who we find are struggling the most to make sense of being an adult, succeeding in the professional world, building community, and figuring out what comes next. We have created young alumni mentoring groups, mentoring and career development workshops, and networking opportunities to help these young adults navigate these critical first few years, in addition to in-person and online career support.
This fall we published a book, Five For Your First Five: Own Your Career and Life After College, which describes the five key competency areas that we believe all young adults should learn to master in their first five years after college: Do the Work; Build a Life; Create Community; Practice Reflection; and, Own What's Next. The book provides guidance, discussion, and reflection opportunities for young alumni to work through – either on their own, or in conversation with a mentor or wise counselor. As one of those mentors, you can use the book as a resource to support your conversations and to better understand some of the challenges that your young adult may be facing at this time.
Transitions, whether it's from high school to college, from college to life after college, from the first job to the second, or from the comfort of a familiar location to one that is new and unknown, can be both exciting and terrifying. As mentors and wise counselors, you can support your student or young adult by asking questions, listening, sharing wisdom that you have gained from your experience, and providing encouragement and affirmation that what he or she is going through is normal. And then encourage him or her to check out the resources available at the OPCD, to support him or her on his or her individual path!
Recent Posts
August 5, 2020

August 4, 2020

August 3, 2020