Today's Daily Deac is going to be like a good jambalaya – lots of stuff in it all blending together.
First up: the Move-in Parking Pass for incoming first-year families is now available online. Please print one out and bring it with you on Move-In Day.
Second up: the start of school typically prompts lots of questions about "how will I be able to see my student's grades?"  The Office of the Registrar has information for you:
If you will want access to your student's grades, or if you anticipate ever wanting to talk to a University staff member about your student's educational progress, your student must authorize you to have that access through Proxy Access.  This is a system in which your student can grant you access to view specific views of his/her academic record including schedule of classes, mid-term and final grade and access to their transcript.  The Proxy Access serves as the FERPA (Family Educational Rights and Privacy Act.) release for Wake Forest. For more information about FERPA, or Proxy Access and how your student can authorize you to access his/her educational information, see http://registrar.wfu.edu/proxyaccess/.
So now – before school starts – might be the best time to have that family discussion and decide what level of access feels appropriate to your family.
Also – majorly fun tour today.  It was the Sneak Preview of the new Reynolds Gym.  Which is AMAZING.  Your students are so fortunate to have a space so gorgeous and so well-designed that is there to help them attend to all aspects of their wellbeing.  I won't be able to go justice to it with my hastily-snapped iPhone pictures, but you will be able to see below that there is a wonderful open space as you enter, lots of nooks and crannies with seating where students can sit and study.  The workout space is incredible – it has strength and cardio equipment that is nicer than my old gym, plus rows and rows of kettlebells and free weights and ropes. There is a brightly colored climbing wall, and one with ropes nearby.  The gym is sort of like a split level house, but the openness of the atrium lets you look up or down and see the various spaces (they are calling them neighborhoods, I think).  The Campus Rec website has information as well.  I did not go into the group exercise rooms, but I did take a look at one of the women's locker rooms and it was really nice.  Note that there is still a final phase (which includes the pool) that will open next spring, but all this awesomeness will be at your students' fingertips as of August 24.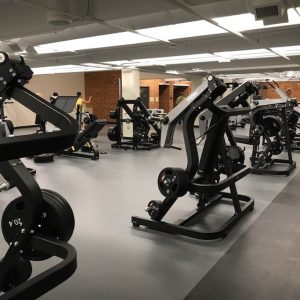 Normally the Daily Deac is more infotainment than straight up news (we have other offices who write official news releases), but given some feedback we had from families this spring about incidents happening abroad, wanted to say something here.  You may have seen that there was an incident in Barcelona today.  There were no reported Wake Foresters (students, faculty, or staff)  in Barcelona at the time.  If you want to learn more about how we encourage students to alert their parents/families to their safety (and the tracking system that gets used), here is a link to an older Daily Deac covering that topic.
Finally, there are a couple of emails from Residence Life and Housing that went out to students that may be of interest.
Hope you enjoyed today's mix of campus life.  Back at it tomorrow with a look at Wake Downtown.