I was out all last week on PTO and so this is a preposted blog entry (as I knew I will be digging out of my inbox).  Today's Daily Deac takes  a look at what has been happening at Wake Downtown this summer, as well as a new program that may be of interest to parents and families – the online Master of Studies in Law.  Many thanks to my colleagues for providing this information.
—————-
Wake Downtown update:
Summer Sessions I and II have concluded, with 143 students taking 17 courses, including "Urban Photography," "Introduction to Urban Design," and several chemistry lecture and lab courses. About twenty undergraduates joined graduate students and faculty in research laboratories this summer; over half of these were supported by fellowships through WFU's Undergraduate Research and Creative Activities (URECA) Center.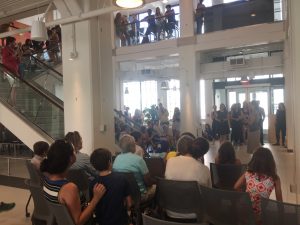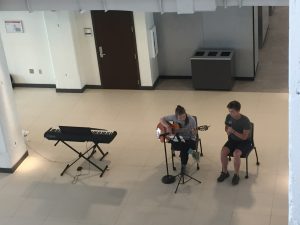 On July, 12, Wake Downtown was thrilled to host the Ben Franklin Transatlantic Fellows Summer Institute (BFTF) talent show.  The fellows, ages 16-18 and representing 30 different countries, displayed their musical, vocal, dance and spoken word talents. Their audience included their peers, host families, and even some students, faculty and staff, who were treated to an unexpected show that day.  Learn more about the BFTF program here.
Upcoming Events:
Move In Day Tours – Wednesday, August 23, 1:00 pm – 5:00 pm
Students and their families are invited to visit Wake Downtown and explore the surrounding community.  Tours will be held on Move-In Day (August 23) from 1-5 pm.  Deacon Food Dollars are accepted at both Medical Grounds and Cafe Brioche Doree.  Additionally, there will be "Field Guides" available; these guides offer a curated list of local restaurants and entertainment in Downtown Winston-Salem. For information on getting to Wake Downtown, download the Wake Forest Shuttle mobile app here.
Departmental Open Houses
Friday, August 25 – 12:30 pm – 2:00 pm
Chemistry Wake Downtown 4903 (455 Vine St.)
Engineering  Wake Downtown 4502
Friday, August 25 – 1:00 pm – 3:00 pm
Biology Winston Hall Foyer
—————-
From the School of Law
The Master of Studies in Law is for working professionals who need to navigate the law, not practice it. Learn to navigate the law in today's heavily-regulated environment and become invaluable in your workplace. Master of Studies in Law (MSL) students can earn a Master's Degree or Graduate Certificate in a part-time, fully online asynchronous environment. Currently offering tracks designed for Health Law & Policy and Human Resources professionals, we will also introduce a Business Law and Compliance track for January 2018.
The online Wake Forest University MSL program, taught by School of Law full-time faculty in collaboration with industry experts, allows our students flexibility to work on weekly assignments at their convenience. The custom-designed courses are relevant to today's legal challenges and beyond, providing students opportunity to add immediate value to the workplace and their lives.
The program actively embraces the values Wake Forest University families have come to expect: a culture of in-depth student/faculty engagement, strong community and a personalized student experience. Applications are accepted for three convenient starts a year. Contact us today for more information about Wake Forest University's online MSL or visit msl.law.wfu.edu.