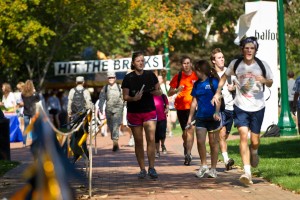 Today's Daily Deac is a preview of coming attractions – and a lesson in campus culture for the new P'21 parents and families.  One of the signature events of the fall semester is Hit the Bricks, and your Deacs should plan to be a part of it.  This year it will take place on September 28th.
Hit the Bricks is a one-day team race around the Quad to raise money for the Brian Piccolo Cancer Fund.  For any of our students reading, your parents and family members might remember the early 70s movie Brian's Song.  Brian Piccolo, the subject of the movie, played football at Wake Forest and then the Chicago Bears before he tragically died at a young age of cancer. Much of what we do at Wake re: philanthropic efforts with cancer is done in Brian Piccolo's name.  (Aside: Brian's Song is required viewing for Deacs. Queue it up on Netflix!)
Hit the Bricks was started in 2003. Literally hundreds of students, faculty, and staff form teams and gather on the Quad (Hearn Plaza) and take turns running laps around the Quad.  Teams have something like 7-10 people on them, and each team gets a baton that gets scanned at each lap, and if you wear a backpack with sand in it you get two scans per lap (this works much better on young backs than old backs, I can say from personal experience).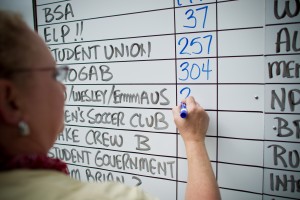 Throughout the day, participants, volunteers, and passers by enjoy fun activities, live music, special guest speakers, and tons of food. There is a leader board, which inspires some friendly competition between teams in various categories (student organizations are a category I believe, there is a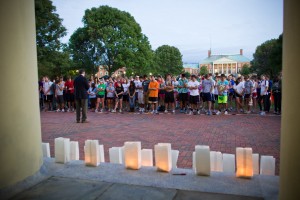 fraternity and sorority category, respectively, also faculty and staff).  For some teams, they really want to win and have actual strategy about how hard they run and when they rest – for other teams, it is more relaxed and more about participation than bragging rights.  Because it is all day, students bring out lawn chairs and set up on the Quad to watch the fun and support their friends.  The event concludes with a very moving ceremonial final lap, and a gathering in front of Wait Chapel for a moment of silence in memory of all those who have lost or are fighting the battle against cancer.  Watch the 2016 Hit the Bricks video.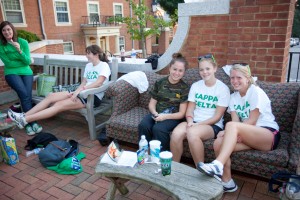 Once school begins, there will be advertisements on campus for Hit the Bricks. Your Deacs should think about forming a team – for new students, you can find people on your hall, or within your friend group – for upperclassmen/women, you can make a team with friends, or from within a student organization.
Hit the Bricks really is one of the best days on campus.  Whether your Deac is on a Hit the Bricks team, or just watching and cheering in solidarity, it will be something they won't want to miss.