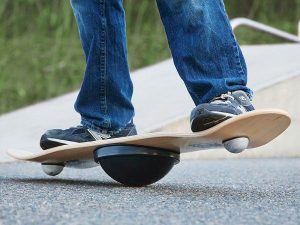 The start of any semester is kind of like trying to balance in the middle of a see-saw or on a balance board.  You try your best to keep your footing steady, but there are moments where you feel like you are sliding one way or the other and are afraid you might fall off.  And that can feel scary.  So today let's talk about the college balancing act.
It is the third day of classes today and I'd bet you there is still a lot of adjusting of schedules going on, whether you are a new student or a senior.  All of our students are trying to navigate their course schedules (do I want to keep X class? or try to get something else?) – but there are some particular nuances too.  For example, we probably have some sophomores who are trying to use this semester to determine if they want to major in X or Y and are kicking the tires between two departments – and they may be feeling some pressure to decide. For our first year students, there can be a lot of anxiety about the course loads, how to balance everything, and maybe even some trepidation (that PhD behind their faculty members' names can seem daunting, and faculty will treat students differently than a high school teacher would and that takes getting used to).  For our seniors, Life After Wake Forest is starting to loom and they will need to be thinking about what to do job or grad school-wise.
But there is also a lot of general balancing going on, too – though this may be more for the new students than the upperclassmen/women.  Am I making friends (or making enough of them)? Do people like me? Do I fit in?  Will I be happy this semester (or happy here)?  This is really, really normal.
So – if your Deac is having some anxious moments about school, social life, or whatever else, help them realize that at the start of anything new (first time in college, first class in X, first time living off campus, whatever), know that unsteady feeling happens, and generally WILL PASS.  After a few days of getting their footing and their balance, things generally get easier.  And if your Deac is feeling uneasy, urge him or her to talk to someone (RA, adviser, Counseling Center, Chaplain's office, older student, Office of Student Engagement, etc.) to get some help and guidance.  And the Student Involvement Fair is this coming Tuesday 9/5 – which is a GREAT way for Deacs to get embedded in campus organizations and find friends and meaningful engagement.
Here's a success story:  I talked to a Deac parent earlier today (you know who you are!) with an upperclassman student who had a bit of a rocky start freshman year and was considering transferring (in the first week I think) – but with time to get used to college and some encouragement to get involved in campus activities, this Deac turned out to have a really happy time here.  But as I tell so many people, starting college is like falling in love – very few of us are hit with the lightning bolt and we are head over heels from the beginning; for most of us, love grows over time.  It is the same with college as with love. You must trust me about this.
So for now, balance on the board as best you can, take those Stop, Drop, and Roll deep breaths, and give it time.  And if your or your Deac need help, let us know so we can point you to resources.