Greetings from Move-In central!  We're embedded here all day in Benson 401 meeting and greeting parents and families.  And honestly y'all, it is SO MUCH FUN.  The happiest day on campus, other than Commencement day.
So far it's been a whirlwind of families coming and going.  Mostly smiling, sometimes with a 'deer in the headlights' look.  It's a hot, hot day, so everyone is sweaty and tired.  Occasionally I am seeing a misty eye here and there as new parents and families are contemplating the fact that their babies have grown up and will soon be on their own.  I'm misting up with you, believe me.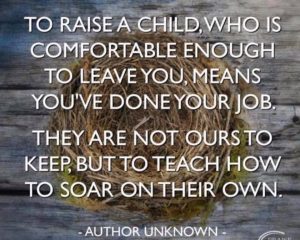 Our former dean of the ZSR Library, Lynn Sutton, posted this on Facebook yesterday, and I snagged it for our Parents and Families page.  Seems like a good time to remind our P'21s (and maybe the rest of our Deac families?) of it.
I am a worrying person by nature, and being a mother makes that worse of course.  But I am here to tell you that I trust 100% that:
Your students are going to be OK.
You are going to be OK.
There will be bumps in the road, but you/your Deacs will navigate them.
There are tons and tons of great people (faculty, staff, and other students) who can help your Deacs if they tell them they need something.
And we – the Office of Family Engagement – are here for you if YOU need it.  Email parents@nullwfu.edu to reach us.
So deep breaths, P'21s.  You got this!