Main Content
I am en route back to Winston today, so I am grateful to have some Where In the World Are Wake Foresters? pictures to pre-post.  It is such fun to see where in the world our Deacs are!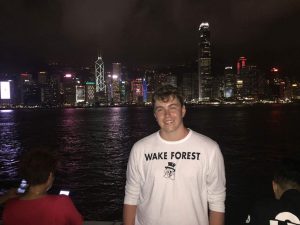 Here is Cameron McClure '19, a Business School student.  He is in Hong Kong this summer on an eight week internship with Vanguard Investments working in their Asia Intermediary Sales Department.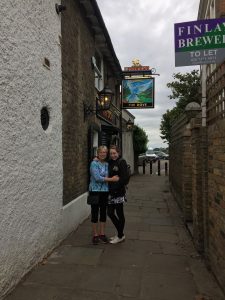 We also have Megan Gast (20) and Lisa Gast (P'20) traveling in London.  They stopped by Worrell House and are seen here at one of the oldest pubs on the Thames.
Thanks for playing along with us and showing us your students' WF spirit all over the country and the world.  Parents and families – you can send us your pics too to parents@nullwfu.edu!  If you are in your hometown, working on a volunteer project, on vacation, etc. and are in Wake attire, we'd love to see you.  Double bonus points for pets with WFU attire 🙂
And a HUGE HUGE HUGE thank you to all our Deac families for heeding my call for help with our Parents' Campaign of the Wake Forest Fund.  We were hoping to get to 3,100 current and past parents and families supporting the Parents' Campaign (at any level) – and we got 3,131!  Thank you for believing in the work that we do and for helping support our efforts.
Finally, a program note: we'll be on a brief blogging hiatus due to my travel schedule, so we'll be dark tomorrow through Weds. or Thurs. of next week.  Enjoy the break (and don't forget your black and gold on Friday!)
Recent Posts
August 5, 2020

August 4, 2020

August 3, 2020