Main Content
Here's a little Throwback Thursday trivia for you, Deac families.  When I was a student, lo these 25 years ago, our Chaplain at the time was a wonderful alumnus named Ed Christman, who was famous for his Orientation speech.  By some magic I will never know, he managed to learn a ton of the incoming freshman class members' names and would weave those names into an Orientation speech in Wait Chapel.  He might say something like "We have new students whose names have to do with condiments…I wonder if Patrick Picklesheimer will ever meet Sam Heinz to talk about whether pickles or ketchup goes best on hamburgers" – that sort of thing.
Somewhere in that speech, he told all the students to look to their left, then to their right, at their neighbors – and said something like 'for some of you, though you may not know it now, you might be seeing your future spouse.'  That was kind of a mind-blowing moment, and I imagine that the mere mention of your students finding potential spouses or permanent partners here is enough to make some families' blood pressure go up just a bit 🙂
I looked through our photo archive here to see if we had any pictures of weddings, just to go with that theme for the day.  I found this picture below, which was captioned as follows: "Wake Forest senior art major Casidy Howard ('17) works on her sculpture project in the hallway of Scales Fine Arts Center on Wednesday, November 30, 2016. Her sculpture is a commentary on the reactions Casi received on her wedding."  I don't know the story of her wedding at all, but this looks like an interesting art project for sure.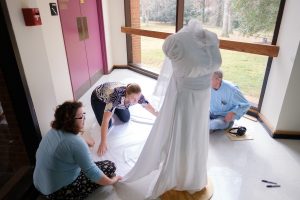 And for the record, I did not meet Mr. Daily Deac at Orientation, but I did meet him in grad school here, and 21 years ago today we were married in Wait Chapel 🙂
Recent Posts
August 12, 2020

August 11, 2020

August 10, 2020