Main Content
Normally it is Black and Gold Friday here at Mother So Dear, but we have a storm that is about to roll over campus, so it is more like Blue and Gray Friday.  (For those of you who are observing Black and Gold Friday by wearing Wake apparel or black and gold clothes, you get what my mother calls a "two-tiered halo" for your WF support).
If you've never been on campus when a storm rolls in, it always makes for a dramatic skyline with the clouds and Wait Chapel.  I took this shot below between Farrell and Poteat field.
And because our landscaping game is so strong, here's a couple of pics of the gorgeous blooms outside of Farrell Hall.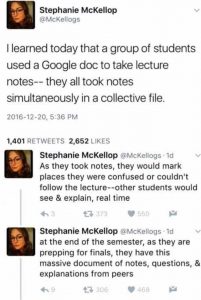 Finally, a potential pro tip to help your students this fall.  Saw this on Facebook lastnight, about an entire class of students (at some other school) taking notes in a shared Google doc during class.  It allowed everyone to pitch in and add content, ask questions and have other students answer, etc.  If your Deacs' individual faculty members allow electronic notetaking in class, this could revolutionize how they do things. Just sayin' 🙂
Make it a great weekend, Deac families!!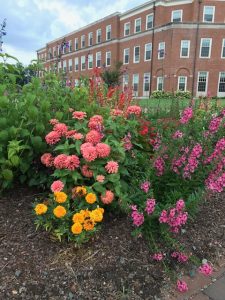 Recent Posts
August 12, 2020

August 11, 2020

August 10, 2020