Main Content
It is a beautiful day here on campus. The highs were in the upper 70s, which made it feel a lot more like May than June.  The hot temperatures will come soon enough, so we'll enjoy it while we can.
Many thanks to those of you who heeded our call for help with the 'if we get 1,000 Wake Forest Fund gifts, an anonymous donor will give $100,000' challenge yesterday. I am still waiting on final tallies, but my fingers are crossed that we made our goal.
I've had a number of rising sophomores and juniors ask me about wanting to make changes to their fall schedule.  Registration will reopen for rising upperclassmen later in August (see here).  Right now we are prepping for incoming first-years to register, which is why we have a no-change window in effect.  There always appears to be plenty of movement in the drop-add process in late August and the first week or so of classes, so hang tight until then.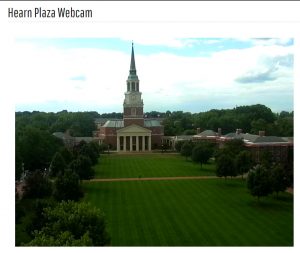 Made it up to Farrell Hall for lunch today, and while there were some summer school students there, it was a lot emptier than it normally is.  Have been so busy working on our New Student Receptions that I have not made it to the Quad in a long time, so I had to resort to the Quad Cam.  Look at that green grass…
Recent Posts
August 12, 2020

August 11, 2020

August 10, 2020