Main Content
If you were following the Deacs in the Super Regional this weekend, you saw a rain delay in the 4ish hours timeline, followed by a tying run to send us in to extra innings…only to lose a heartbreaker in the end.
And that was just Game One.
Yesterday was Game Two – which had a weather delay that ultimately postponed the game.  They picked it up at 1 pm today and our Diamond Deacs pulled out the victory 8-6.  So we have to play Florida one more time.
Anyone have fingernails left? Or are you just sprouting extra gray hair like me?
Our hometown minor league team, the Winston-Salem Dash, wins the internet for the day with this Tweet (click the picture to enlarge):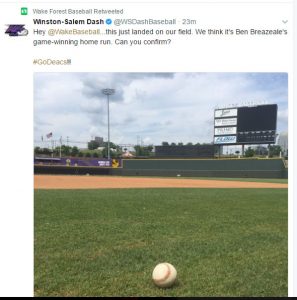 Congrats, Deacs!  Best of luck for the final game.  Deac parents and families are with you!
Recent Posts
August 5, 2020

August 4, 2020

August 3, 2020