Main Content
It's a beautiful end to our week and a Black and Gold Friday on top of that. Who else is with me in wearing their WFU colors today?
I was up on the Quad today and for the first time since Commencement took a good hard look at the Quad grass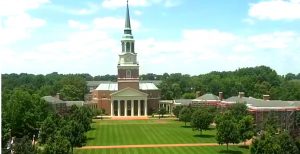 where the Commencement tent had been.  If you click on this picture to enlarge it, you can see there is a big brown patch in the grass (look to the lower right of the last Wait Chapel pillar) and there appears to be some vigorous work being done to restore it to its former glory.
Also happening on and around the Quad are renovations to Davis (and I think Poteat) residence halls.  Davis has all of the windows out for sure. There are construction trucks and storage units on Davis Field, which is really an odd sight.
Will leave you with a thank you, and then a happy thought from a Wake Forest parent and volunteer.  First the thank you. I checked our Parents' Campaign numbers and instead of being 370ish donors needed to reach our goal by June 30th, we are now only 161 families away!!!!  200 gifts in a day is a big fat hairy deal, so heartfelt thanks to all who gave in our $100K match day, and if you want to be one of the last 161 families, you can give securely online here.
Now the happy thought. I was in a meeting today and our guest speaker, a Deac parent and volunteer, talked about how between his career and his passion for sports, he's visited about 75 college campuses across the country, and having seen them all – from the big and the gloried, in states everywhere across our great country – he could say "with some neutrality" that there is simply no other place like Wake Forest.
Well said, Deac parent.  I happen to agree wholeheartedly.
Make it a great weekend, Deac families!
Recent Posts
August 5, 2020

August 4, 2020

August 3, 2020