Today was Commencement, and it was a beautiful one from start to finish.  As we so often do at the Daily Deac, we'll start with the weather.  It was gorgeous.  A cool 60 degrees when I arrived at 5:30 in the morning – here is a view of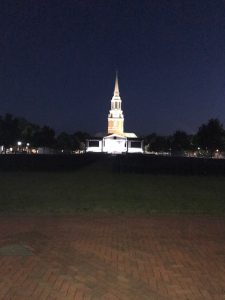 the Quad before it was open to guests.  As the sun rose and the Quad opened, it was sunny and warm, maybe high of 83.  That 'warm' would have felt 'hot' if you were in the sun for the full 3 hours, and as the ceremony progressed I saw a good deal of programs doubling as hand fans.  Still, given the fact that I have done some Commencements where it was high 50s and damp, this was far nicer.
The big screens on either side of the stage showed a collection of Tweets, Instagram photos, and other social media posts from students and families alike.  It was wonderful to see so many pictures of smiling graduates and expressions of love and pride from happy families.  On social media, search for the hashtag #wfugrad and you can see what's out there.
There will be plenty of Commencement coverage on the web in the coming days.  Here's a few things you may enjoy:
Watch a recording of the full ceremony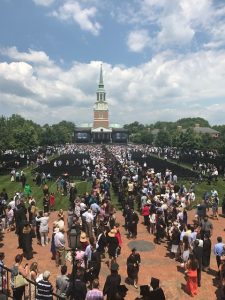 And here is one of my favorite moments every year – the recessional, when the graduates make their way back to the front of Reynolda Hall, and the faculty form a sort of tunnel, high-fiving and hand-shaking and/or hugging their students as they pass.
If you like watching construction/destruction, stay tuned to the Quad Cam to see the amazingly orderly and speedy removal of the chairs and stage.  Pretty cool.
Back to today.  There were some lighthearted moments: the Medical School graduates brought air horns to the service and roundly cheered their dean when he spoke; Law School grads were not too far behind. And occasionally as an undergrad crossed the stage, the student would mug for the camera capturing the video.
There were some tender moments too: seeing families hug their Deacs before lining up for the ceremony, the commissioning of the ROTC cadets, the awarding of a diploma to the family of Jordan Bayer, a '17 who passed away.
Commencement is always a day of endings and new beginnings at once.  P'17s, we are proud of your Deacs and want them to go forth and have long and happy lives, full of meaning and purpose. They are ready.