Main Content
Today is Campus Day for Accepted Students, so this morning my Office of Family Engagement colleagues and I had the good fortune to see and visit with many families.  As in past years, some of them were kicking the tires between Wake and their other Final Choice School, and others were already sure they were coming.  I met an Early Decision student who had applied almost as soon as he was able, and enrolled in August!
My hope is that all those students visiting today have a terrific visit and end up making the best college choice for them.  Obviously, I hope that is Wake.  And for those potential P'21 families, I hope they engage with us via the Daily Deac and the Parents and Families page – and to come to events and more.  We love our families!!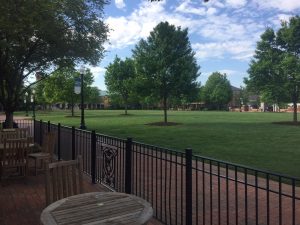 Today is also one of the best days in my job.  Not only do we get to meet all these excited kids and families, but this is the view from our Office of Family Engagement perch, where we were between 7:30-10 am.  We were on the patio of Zick's, which I cannot recommend highly enough as a place to have a cup of coffee or breakfast alfresco.  There had been almost no students out here in the early part of the day, and it is shady and quiet and would have been an ideal place to just enjoy the morning, or to study in the great outdoors.  Or for a blogger to blog 🙂
Not only is it Friday, but it is the last Friday of the semester, which means students might be feeling extra pressure to let off some steam knowing that finals are coming.  This would be an especially good afternoon to give your Deacs a call and have that Friday chat 🙂
Have a great end to your Black and Gold Friday, my Deac families!
Recent Posts
April 9, 2020

April 8, 2020

April 7, 2020