We are nearing the end of the semester (classes end tomorrow), and allegedly the end of the rain (also supposedly tomorrow).  Though it is raining today – AGAIN – tomorrow is supposed to be nearly 80, instead of just 60.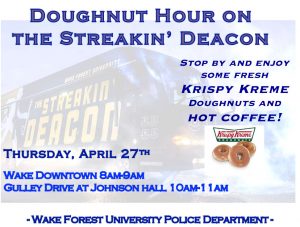 There is a bright spot on Thursday, which is that the Streakin' Deacon bus is going to be outside of Johnson Hall with our friends from University Police, who are going to be giving away Krispy Kreme donuts.  If your Deacs have not seen the Streakin' Deacon, it is really something to see (you can get a preview by watching the video on their website).
So LDOC (Last Day of Classes) is tomorrow.  Tonight would be a great time to send your Deacs a text or an email telling them you know they are working hard and you love them.  Sometimes hearing mom or dad or a loved one saying "you got this!" is the best thing ever.