Main Content
Yesterday my friends and colleagues from Thrive had the Thrive tent set up right outside the entrance to the Pit on the Magnolia Patio.  April 5th was National Alcohol Screening Day and students, faculty, and staff could take a brief online alcohol screening and then pick out a piece of Thrive swag: t-shirt, water bottle, Tervis tumbler, or a fabric bag.
I took the screening too just to see what the survey asked.  At the beginning it showed you a graphic of what a serving of alcohol really is – for example, you saw a wineglass filled to the 'official serving' amount and not the 'to the absolute brim of the glass' amount.  The survey asked things like how many days a week do you drink, how many drinks in a typical day, have you ever had six or more drinks at once, have you ever been injured during drinking, etc.
At the end of the survey, you got a score that showed where your drinking fell in terms of low risk to high risk.  There were also 4 handouts every survey participant got a copy of, as well as the swag item of choice.  There were also freebie cups for everyone – one of which starts out clear and turns color once liquid is on it.
During my time at the table, I saw students who I know do not drink at all, and some who I think probably do.  My hope is that for all our students, they do not engage in high risk behaviors.  This Thrive table gave our Deacs a chance to be better informed about drinking and how to make smart choices.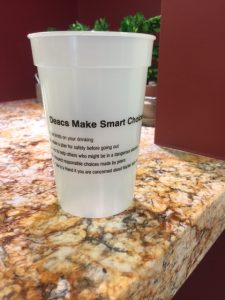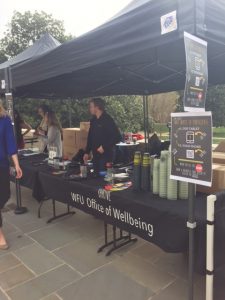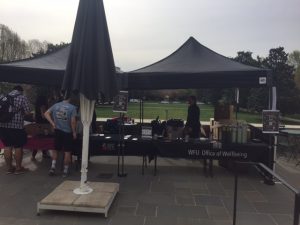 Plus they got this cool color-changing cup to boot.
Finally, a shot of the tulips outside Alumni Hall, because they are so gorgeous (and red, my favorite color!).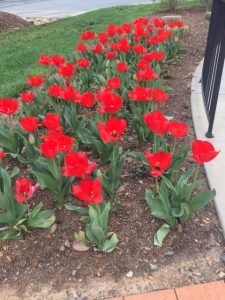 Recent Posts
September 25, 2020

September 24, 2020

September 23, 2020