There is a sweeping illness going around campus right now, and it's called Spring Fever.
Seriously, it is soooooo hard for your students to want to work right now, because the weather is nothing short of stunning.  It's mid 70s today, nice and sunny, a bit of a breeze.  We started out a little cloudy with a chance of rain, but the afternoon has been spectacular.  Flowers are blooming everywhere, and it's a great day to be alive.
I was up at the Quad around midday and there were lots of people who seemed grateful to be outdoors.  Just took a peek at the Quad Cam and can see a clutch of folks sitting on the grass together.  There is no webcam that will show me the south part of campus, but my guess is that all the outdoor tables at Shorty's and the Benson patio are in use.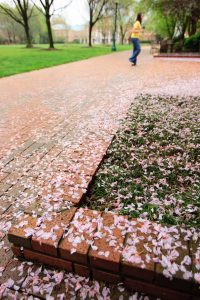 It was windier earlier and there were moments where some of the blooming trees were losing their petals in the wind, sort of like snow.  It hasn't happened yet that I can see, but there will come a time this spring outside of Kitchin Hall where the cherry trees will lose their pink petals and they will scatter everywhere like confetti, as seen in these photos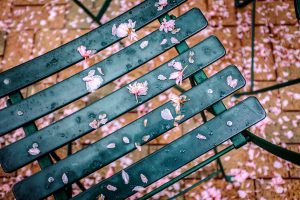 .
The only downside to the spring weather is that the pollen is to follow.  April tends to give us the worst of it, so think about starting that over the counter Zyrtec now if you are an allergy sufferer.