Main Content
Today we are all about our P'17s who are looking forward to Commencement in May.  Many things to think about related to Commencement.
Yesterday we announced the speaker for Commencement, historian Jon Meacham, and Baccalaureate, alumna Killian Noe ('80), founding director of Recovery Cafe in Seattle.  Very exciting.
For our '17 students, today and tomorrow is the Grad Fair, and that's where '17s need to go to order their cap and gown, graduation announcements, etc.  You may want to prompt your '17 to look at the Graduation Checklist for students (and you can review the parent/family info there too).
And then I got this sweet email from a Deac mom: "Do you think you might like to write a column for the graduates of 2017 on saying good bye to Mother So Dear? My daughter will be graduating and I sense she's feeling bittersweet."
That bittersweetness is something I know all too well.  So here is what I would say to the Class of 2017 if they are feeling a bit misty about Commencement.
Dear Seniors –
I remember well getting back from Spring Break (which I spent in FL with my friends) and thinking 'holy crap – graduation is just around the corner!  I'm not ready!'
I did not want to leave the comfortable "second family" I'd made with my best friends.  I was not ready to have my best girls scatter to the four winds in different states.  I liked having us all live right next door to each other and be able to stay up til all hours eating pizza and talking and laughing about everything and nothing.
I was afraid of what would become of my relationship with my boyfriend.  We'd dated steadily throughout senior year and now he was headed to one grad program and I was going to another.  It was several states away, so at best we'd see each other infrequently.  A long distance relationship was not ideal.
I was afraid of having to start over.  I'd found my place at Wake. I understood the expectations of my professors and had done well in my major.  I knew what I had to do to succeed.  Now I was going to have to learn what faculty expected of me as a grad student (it seemed daunting), plus get to know the students in my cohort and hope I liked them.  I was also coming into my identity as an introvert – and making new friends was not easy.
And I knew ultimately I'd have to be paying for myself.  Get a real job and stop going to Banco de Papa for everything.  I wanted to be independent, but I was scared too.  It was likely I would not ever earn as much money as my parents did.  It was weird thinking that I might take a step down in lifestyle.  Would my parents think badly of me that I was not as successful as they were?
So I spent the last few weeks of school in a bit of a funk.  I looked at Commencement with dread.  All it represented to me was The End Of All Good Things.
And guess what?  I was wrong.
Commencement weekend turned out to be one of the happiest, most joyous weekends of my time at Wake.  There is a special kind of magic that comes in celebrating four years well spent at Wake – and having your family, your friends and their families, and the faculty and staff that were important to you together in that moment.  It was amazing.  Rather than being sad and feeling like it was the end of everything, it felt like the best party ever.
For one thing, Commencement weekend tends to be the most beautiful of all the weekends on campus.  There is a gorgeous symmetry in all the chairs aligned in neat rows.  In seeing a huge tent on the Quad (when you never see it otherwise).  The grass on the Quad is especially lush.  Railings and other things get a fresh coat of paint.  Flowers everywhere.
For another, the time you spend with your friends in the last week leading up to Commencement (at Post-Exams or Beach Week or whatever you call it – or on campus or somewhere else) can be fantastic.  A mini vacation after the hard work of finals.  (Side note: I would urge all of you graduating to resist the temptation to party nonstop and maniacally during Posties.  This is not a time you want to go crazy – you want to savor it like a fine glass of wine and remember all the little details and moments of your time together – not spend your time drunk and/or hungover).
Then there is the pride of your family. You have no idea how much you want or need that until you feel all their love and joy and pride at your accomplishments.  They are so, so happy for you.  They look at you and your friends with wonder at how mature you are, how independent you are, how happy they are to see you surrounded by good people who will be friends for life.
It all adds up to an amazing, tremendous weekend.  So don't be worried in advance like I was.
And a few other random tips.
You only have a few more weeks here.  This is the time to indulge in the things that you will miss.  Eat your favorite foods on campus because even if you can get something like sweet potato fries somewhere else, they won't taste exactly like they do at Shorty's.  Or go to Cookout, or Krispy Kreme, or wherever.
Take walks all around campus.  Go down Faculty Drive. Up the path to Reynolda Village.  Burn it all into your memory.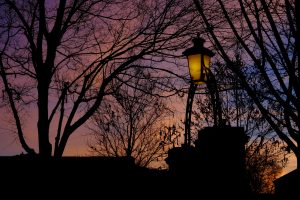 See Wake at lots of different times of day.  Sunrise (yes, you can do it!), twilight, full moon, whatever. (This picture is from senior Sam Anich '17 and I just love it!)
Take pictures of things that are meaningful to you.  Your freshman dorm.  Your academic building. The outside campus space you spent a lot of time. Where you first kissed that person you like/love so much. You know where your magic moments happened.
Take pictures of your friends.  Group shots, candids, the whole works.  They will mean the world to you.  You can pick a particular pose/arrangement of people and then you can recreate that at every Homecoming or wedding.  (My friends and I laid on the floor with our heads in a circle and our hands entwined between us and had someone stand on a bed above us and take the picture).
Spend time with faculty or staff mentors who mattered to you.  Invite them to coffee, or go to their office hours, or ask if they'd meet you for a walk.  You want to be able, in your way, to thank them for being important to you and to express your desire to stay connected after Wake.
Once Commencement weekend is here – do a few extra things:
Walk barefoot on the Quad.  The grass is unreal.
Sit on the steps of Wait Chapel with your friends at sunset and contemplate the Commencement stage – or get the view from the opposite direction and do it on the Reynolda balcony.  I – ahem – might have known someone who says one of their happiest memories was drinking a beer on the chapel steps with one of their best friends.
Go to the Departmental Open House for your major and take your parents/family members with you.
Take lots of pictures in your cap and gown. With family. With friends.  Serious shots. Funny shots.  You will treasure those later.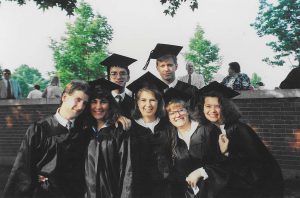 Hug everyone.  Tell the people you love that you love them.
Finally, there is also one "Don't" – don't celebrate so much the night before Commencement that you are hung over (or heaven forbid still drunk).  Regrettably, a very few students do this and are told they cannot participate in Commencement.  You worked too hard these last four years to not be clear-headed on Commencement day, and you don't want to ruin your parents/family members' experience by not seeing you walk across the stage.
So that is my letter to seniors.  And for the Hamilton fans out there, this makes me think about the song "One Last Time" – which is all about teaching people how to say goodbye.
Recent Posts
April 9, 2020

April 8, 2020

April 7, 2020