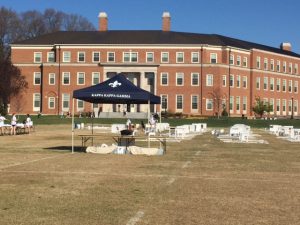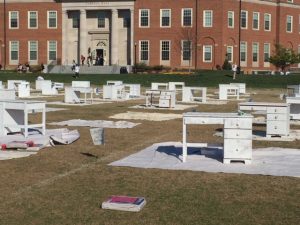 I wish there was a Poteat Field Cam today because the D.E.S.K. service project is happening this afternoon.  On my way back from a meeting, I walked across Poteat Field to see a ton of desks being painted white in preparation for a more colorful and creative painting by student groups this afternoon.  Each of the desks had a little sign stuck in the ground next to it that labeled the student organization that is sponsoring that desk, along with a name (I assume of the child who will get that desk?)  There were also a couple of small tailgate tents out there for the various student organizations; I happened to get a shot with the Kappa Kappa Gamma sorority tent in it, but there were a couple others.
Here's what the Events Calendar said about D.E.S.K.:
Every year, almost 50 different student organizations join forces on campus to paint desks for children in the local Winston-Salem community. The area is always abuzz with music, games, and prizes. Nearly 500 Wake Forest students paint alongside their sponsored child at the event.
The idea behind D.E.S.K. is to provide a unique working environment for students to use in their own home. We have seen in the past that the children whom we reach out to truly appreciate the effort that goes into their new personalized desk, but are also positively affected by the connection each of them makes with his or her sponsoring team.
Additionally, D.E.S.K. intends to solidify positive study habits by establishing more educational support in the home. We provide some school supplies and a grade-level appropriate book, as well as an assignment book, to better enable students and parents to achieve academic excellence through utilizing their own home environment.
​We aim to bring the campus together to recognize how important and good education is. The event is a way to make Wake students more aware of the needs within the community and to enjoy an afternoon of fun and creativity. D.E.S.K is a powerful step towards making our motto, "Pro Humanitate," come to life. Every student at Wake Forest has been fortunate enough to have been given a solid education that has prepared them for life, and every child deserves the same!
D.E.S.K. is a great example of Pro Humanitate at work and it is wonderful to see so many students involved with a project that makes a difference in the life of a child.  Proud of you, my Deacs!
Also got an email this morning from my friends in the WFU Jewish Life office. They will be offering a number of opportunities for the campus community to join them for a Seder meal; evidently there was an interfaith Seder lastnight.  I very much enjoyed the Seder meal I attended a year or two ago and wish I could be there for this one (but I will be on my Class of '27 son's Spring Break).  Information about the meals and a way to RSVP is below for your Deacs.
Passover Events: (RSVPS are highly suggested)
Your options include:
Bedikat Chametz.

April 9 at 3 pm

. Hillel Lounge.
Cooking.  

April 9

from 

3:30 – 5:30 pm

. Hillel Lounge.
Seder – 1st night. 

April 10 at 5 pm

. Mag Room.
Seder – 2nd night.

April 11 at 5 pm

. Hillel Lounge.
Kosher for Passover dairy foods will be in the Hillel Lounge from

April 10 – 18

!