Main Content
One of the things I am learning in the #WFUSleepinDeacon challenge is the importance of taking some restorative time.  For bedtime, they call it a 'soothing bedtime ritual' to help you relax and prepare to sleep.  But a soothing ritual is not just for bedtime.
I suspect none of you would think your students are far too relaxed, not a care in the world, twiddling their thumbs.  Rather, I bet they are more likely to be stressed out and hyped up.  So encourage them, when you can, to take a break.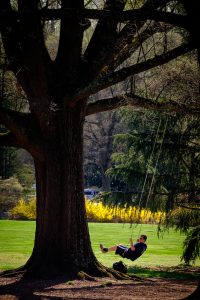 There are swings in the big trees on Davis Field, close to the walkway down to Scales Fine Arts Center.  It's always wonderful to see a student sitting on them, or even better swinging like they were still a little kid.  Something about that feeling of wind-in-your-face to make you feel young and happy and carefree and alive.
So I hope you encourage your Deac to take a break from his/her studies and do something fun.  It could be these swings, or it could be to stop (literally) and smell the flowers (I just found out yesterday that there is some flower growing near Wait Chapel that smells absolutely divine). Or sit on the steps of Wait Chapel and watch the sun set.  Or rise. Or whatever your Deac's heart desires.
Point is, take a short break – refresh and recharge your internal batteries – and then go back to the studying or homework better restored and renewed.
By the way, the swings are not just for college students. Next time you are on campus, I invite you to try them 🙂
Recent Posts
August 12, 2020

August 11, 2020

August 10, 2020