Main Content
Today is 8 ways to beautiful. Warm, sunny, big "The Simpsons" kind of clouds in the sky. People seem very happy.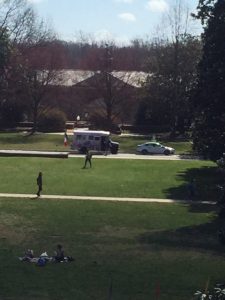 As I was headed to a lunch meeting in the Benson Center, I spied the La Vie en Rose food truck. As the name may suggest, this is a French food truck.  I've been dying to try it and it seems every time it is on campus, I have plans.  For those who got to sample its delicacies, my hunch is that it was magnifique (at least that is what I have heard others say).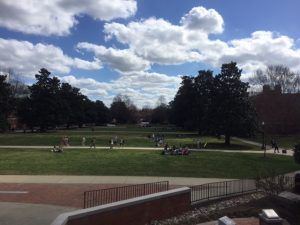 Because of the gorgeous weather, everyone is outside.  People are strewn all over the grassy areas and loving life.  I saw on the Mag (Manchester) Quad a group of students sitting in a circle – looks like it could have been a class or a study group.  You might be able to make it out in this picture.  It is especially good when it is is this nice and a Friday – that just ups the ante with peoples' good mood.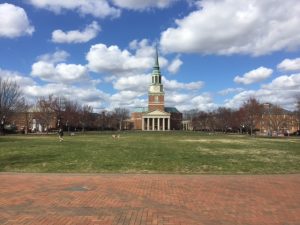 After lunch I headed up to the Quad, only to find more students soaking up the sun.  Saw not one, but two gorgeous dogs – a yellow lab and a black lab, perfect WFU colors! – on the Quad.  Managed to make it up to the black lab and talked to who I thought was his owner, but it was a friend of the owner.  Turns out this beautiful dog is Enzo, a seeing eye dog who is a beloved fixture on campus, and who was profiled here (along with his owner, the incredibly talented Kathryn Webster).  Enzo was off duty, so I got to pet him.  My guess is that if your Deac is a dog lover and was on the Quad, he/she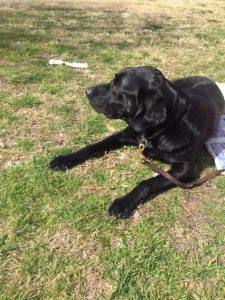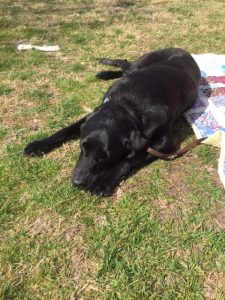 might have gravitated towards Enzo too.  Dogs are hot commodities to students who miss their family pets.
This day would be perfect for an Arnold Palmer, that delightful drink that is half lemonade, half iced tea.  Speaking of Arnold Palmers, we are evidently trying to get Al Roker of the Today show here as part of #Rokerthon.  Details below.  It's worth clicking the Twitter link to see the cute video they made.
If you're a fan of the TODAY Show's meteorologist Al Roker, then you're probably familiar with his record-setting 34-hour weather broadcast, or his cross-country journey to visit all 50 states in one week. Now, #Rokerthon is Storming into the Madness hitting college campuses across America.
Al wants to break as many world records as he can on his college campus tour. We have the perfect idea to bring Al to Wake Forest all while honoring the life and legacy one of our own – Arnie.
So, what's more exciting than Al doing a live weather broadcast from Mother, So Dear? How about breaking a Guinness World Record for most Arnold Palmer toasts at one time? Yeah. That.
Here's where you come in…
We've submitted our Rokerthon 3 video and tweeted it from @WakeForest. We'd love for this tweet to get as many retweets, or subtweets, as possible. If you're on Twitter, visit the link below to retweet:
https://twitter.com/WakeForest/status/835206264015761411
Thanks in advance for helping us spread the word for #Rokerthon.
So, Deac families, if you tweet, please retweet our #Rokerthon entry and maybe we can get Mother So Dear on his campus tour, and your Deacs can raise a cold Arnold Palmer in memory of our greatest golfing Deac!
PS – bonus point to all of you wearing WFU colors on Black and Gold Friday 🙂
Recent Posts
August 5, 2020

August 4, 2020

August 3, 2020