Main Content
All, for the rest of this week we're going to be light on Daily Deac content, as I have tons on my plate.  Today I went on a hardhat tour of the Reynolds Gym construction area.  Let me tell you, the stuff they are doing to take that staid, 1950s, institutional-feeling gym is nothing short of amazing.
It's still very much a construction zone – there are no final walls or anything, and lots of spaces that are still actively being worked on, but our fantastic construction tour guide, Brad, was showing us that the treadmills and machines will be over here, and where the free weights and plyometrics (sp?) will be over there, and a living room common area over here – and so much more.  The end feeling will be open and glassy, with a nod to the brickwork and archways of the past but with an obviously more up to date feel.
My hunch is that the new-and-improved Reynolds will become a hub of campus, much in the way that Farrell's Living Room is a hub for some and ZSR is a hub for others.  So know there is much to look forward to for your students.  I am not the official mouthpiece on the timetable, as the construction is going in phases.  Reynolds will not be ready for the '17s to use since they are graduating in just a few months, but it sounds like the other classes will (again, stay tuned on timeframe).
The picture below is from the former swimming pool, which is being excavated now to make way for a newer, better swimming pool.  My '27 Deac took swimming lessons there and I can't tell you how odd it is to see it looking like this.
So that's your insider's view of the day.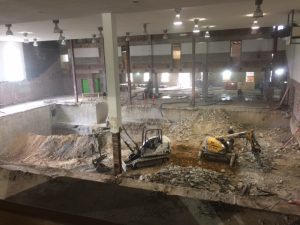 Recent Posts
August 12, 2020

August 11, 2020

August 10, 2020