Busy day today, so here are five quick impressions of things I saw or heard while on the Quad shortly after lunch.
Yellow ribbons on trees.  This week is Tie A Yellow Ribbon week, which is a week dedicated to sexual assault awareness.  Read more here.
Faculty or staff spending a bit of their lunch breaks taking a walk outside while the weather is nice.
There is a breeze today – can be a bit on the crisp side, but not as blustery as a couple of days ago.
T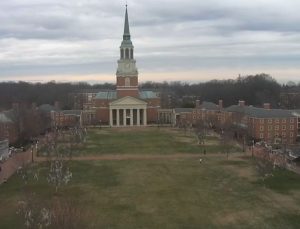 he sun has been coming and going. It's one of those days where you aren't sure if you really need your sunglasses or not.  Ever-changing light.
Students going in and out of the Subway on the Quad.  I'd be curious to know just how many sandwiches get made in a day.  They always seem like there is someone in line.
And a Happy Valentine's Day to all of our Deac families!  We love that you are a part of our lives at Wake Forest!  And if you haven't sent your Deac a valentine today, you can send a Deacon Greeting.
PS – so, the #WFUSleepinDeacon challenge…still plugging away at it. Am finding that avoiding the TV during bedtime is the worst. Hope I can hang in there.  Good luck to any of our Deac families participating in your home areas!
Recent Posts
June 14, 2021

June 11, 2021

June 10, 2021