Main Content
It is a crisp, cold day on campus today. High of maybe 53, but with the breeze my weather app says it feels like 40.  It was cold enough that when I was walking the middle part of campus to and from a meeting, there were not a lot of straggling students enjoying the sunshine.
As I was walking to my meeting at 10:45 am, one of the residence halls near the Quad had a fire alarm going (before you panic, it sounded like it was just an accidental pull or false alarm based on what I could hear an RA-type saying).  There were a couple of students in what looked like pajamas, and at least one with slippers on, which gave me an odd pang.  (Ah, to be back in the days where you could still be in PJs at nearly 11 am…)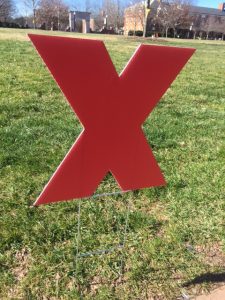 The Quad is peppered today with these great X signs, marketing for the upcoming TEDxWakeForestU conference this Saturday.  The theme is The Power of Curiosity and it is free for your students with their Wake ID card.  This is a student-planned and student-run event, and they have gathered an impressive lineup of speakers.
S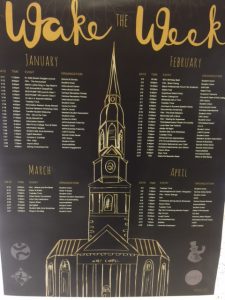 peaking of things students can attend, the Benson had a giant bucket of free Wake the Week posters in the atrium.  You won't be able to read this necessarily, but you can glimpse at the picture and see all the events that are listed there (and I am sure this is not a 100% comprehensive list). Despite what your Deac may tell you, there is never "nothing to do" at Wake Forest.
And in our attempt to keep parents and families up to date on opportunities that may be of interest, for those of you in the Charlotte, NC area (or others interested in coming for a visit), I received this today from the School of Business re: a course in business analytics.  See the link at the end of the message if you want more info or to register.
—————————–
Business Analytics: Turning Data into Insights for Competitive Advantage by Creating a Data-Driven Culture
We now live in the age of data. Through the use of computers, cell phones and other smart devices, we generate enormous amounts of data that companies can use to better understand their customers, track their products, more effectively utilize resources and increase productivity and the bottom line.
How might the latest trends in business analytics lead to a positive impact on your business and create competitive advantage?
The Wake Forest School of Business is pleased to offer an intensive two-day immersion into Business Analytics at the University's Charlotte Center in uptown Charlotte. In this course, you will learn how some of the world's leading companies have leveraged business analytics to turn data into insights for better decision making and create a data-driven culture that leads to superior strategic, tactical and operational decisions.
Topics include:
The different types of analytics and how/when they are useful
How to create a data-driven culture
The factors that lead to success or failure with business analytics
Current and future trends in business analytics
Techniques for using data to generate new ideas, experimenting with solutions, and evaluating alternatives
The program dates are May 9-10, 2017, and demand is expected to be high. We encourage you to register early as seating space has been limited to maximize class interaction and engagement.
For more information on this program, and to register, please visit our website.
Recent Posts
August 12, 2020

August 11, 2020

August 10, 2020