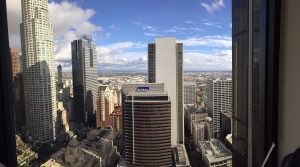 Today we have a special surprise – a couple of submissions from Deac families.  The first is a picture from sunny downtown Los Angeles.  Many thanks to our P'20 Deac Dad from LA!  Look at those blue skies!  Happily we have sun today too.
Also a mea culpa to my CA families, who I asked to send the sun our way in yesterday's blog.  Was reminded of the fact that y'all have had plenty of water issues out there, so my apologies for being tone deaf to that point. Unintentional, I assure you.
Our second parent-submitted item is a lovely story about the kindness of the Wake Family.  This comes to us from a P'19 mom:
"Saturday evening, my daughter, her roommate and her suitemate were at the Village Tavern for dinner (we had given her a gift card for Christmas since it's a favorite place of hers).
Anyway, when it came time to ask for their bill another waitress approached and informed them their bill was paid by the gentleman in the adjacent table; my daughter said he was "older" like in his 40's 🙂
The man had overheard their conversation and had been pleased with their manners and then noticed one of them wearing a WF sweatshirt.  Turns out he was an alumnus!  He made a point of also telling them, 'your parents would be proud.'
I love those random acts of kindness!
Finally, we did get a recommendation for another TED Talk from a Daily Deac reader.  This is one I had seen myself in a grad school class I am in, and I very nearly put it in my original blog post, along with Quiet by Susan Cain.  This one is by Nigerian author Chimamanda Ngozi Adichie and it is called The Danger of a Single Story.  Worth your 20 minutes to watch, in my humble opinion.
Thanks to all our dear readers for sending things in. While we can't share everything, it's nice to work things in when we can!