I'm working today from my couch, as the public schools are closed and Class of '27 is home.  Today's remote Daily Deac will cover the three S's: news of snow, soccer, and sororities.
It's probably an understatement to say that our snow event was a pretty big one by Winston standards.  My house (only a few miles from school) got around 7-8″ of snow when all was said and done.  This was light, powdery snow, not the wet, good-for-snowballs kind of snow.
There are a couple places to see some good shots of campus.  Our Ken Bennett took a bunch of pictures and you can see them on this Flickr site.  I always love to see students having snowball fights and making snowmen. Not all of our students grew up in places where they would get snow, so for some Deacs, I bet this was a first (or the first time there was more than a dusting.) I hope they enjoyed every moment.
The Wake Forest University Facebook page shared some video (driving and aerial) credited to Hayden Lineberger ('18) which gives you a fantastic and comprehensive look at campus.  Some very clever person made a hashtag #MotherSnowDear, and if you search that on Twitter or Instagram I bet you can find more snow photos.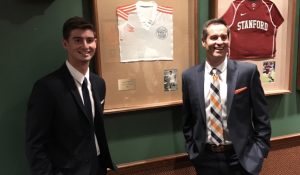 There was also some major news on campus Friday night, and I hate that it happened when the full student body had not yet returned, because if ever there was something worthy of a mighty Quad roll, this was it.  Our senior men's soccer player Ian Harkes won the MAC Hermann Trophy as the best men's soccer player in the country (he'd previously been awarded a slew of other honors too).  They had a livefeed of the ceremony and my soccer-loving family was glued to my laptop. It was an amazing honor and we are so, so proud of Ian for this remarkable achievement, but by extension proud of all our team – players, coaches, staff.  A great night to be a Deac.  Fun fact I learned too: Ian Harkes' dad also won the MAC Hermann himself (this is a picture of them together). Can only imagine how that must feel to their family.  Go Deacs!
For families with daughters going through sorority recruitment, the schedule was bumped 24 hours due to the snow, so tonight is pref night (where students can rank their remaining options, as applicable), and Bid Day will take place tomorrow evening around 8 pm.
Finally, did your Deac take any great pictures of the snow?  Campus Recreation is having a photo contest; details here.