Main Content
This Sunday night is one of Wake Forest's most beloved traditions, the Lovefeast.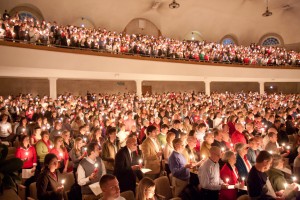 The Lovefeast and candlelight service is a custom that originated in Europe in 1727. The first lovefeast in North Carolina was held on the evening of the arrival of the Moravians at Bethabara in the mid-1700s. Wake Forest began holding an annual  Lovefeast on campus in 1965.  It was initiated by a student, with help from the Office of the Chaplain, and has continued ever since.
The Lovefeast brings together students, faculty, alumni, parents, and friends, as well as members of the community.  It is an evening of Christmas music, reflections on the season, a shared "meal" of coffee and Moravian buns (sort of like a hamburger bun with some ginger and nutmeg and holiday spices), and the lighting of candles and singing of traditional hymns. It is one of the traditions on campus that many students and alumni cherish.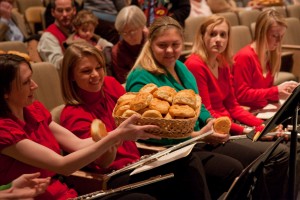 The Lovefeast will be held this year on Sunday, December 4th in two seatings (for the first time ever).  The first seating is at 4:30 pm and is an abbreviated service.  The traditional service is at 8:00 p.m.  Both are held in Wait Chapel. It is free and open to the public, and the chapel does fill, so tell your Deacs to plan to arrive early.
There is a gorgeous photo archive with images from past Lovefeasts, which will give you an idea of what this special event feels like.
And you as parents and families can virtually participate by watching the livestream of the event.  It will be available on Sunday evening.  Past years' videos are archived there too.
I'll be at the early service and hope to see many of your Deacs – or our local families – there!
Recent Posts
August 12, 2020

August 11, 2020

August 10, 2020