Main Content
Today is an unusually cold day – highs in the mid 30s (I know it is colder in many of the places where Daily Deac readers live, but this cold for us).
This morning I had the pleasure of driving down to the Benson Center to drop off a mass mailing to families of the Class of 2021 who have enrolled following Early Decision (woohoo!) As I was driving, I saw a lot of bundled-up students: some in heavy coats, some in UGG boots. Saw a lot of running pants and sweatshirts and ponytails – not because people seemed to be exercising, but because comfort is of the essence during finals.
I dropped off my mail bin around 9:45 and hung around because I had a 10 am meeting.  Benson was unusually quiet. In a normal, non-finals week, you would have seen students coming and going, or milling about the Food Court, and there would have been a lot of background noise from people talking to friends or saying 'hey!' as they passed people they knew.  But during finals week it is serious business. People are there to study, and everyone seems to respect the unwritten code of 'be quiet, I'm concentrating.' There were lots of signs around various parts of Benson identifying where open study rooms were.
In the public spaces where students would normally be hanging out or doing work in between classes, there was a whole lot of emptiness. The 3rd (main) floor lounge of Benson did have some students there on the chairs and sofas and at the tables.  But there were no students in the common area outside the mail room, nor on the 4th floor, not even in the Isil Lounge at the back of the 4th floor (new/newish furniture, by the way, and it looks great. Your Deacs need to make that a study spot!)  My meeting ended a little after 11 am, and the building was still very, very quiet.  Your Deacs are hard at work.
The atrium of Benson was all decked out in various flags of the world (not sure why), along with decorations for Christmas and Hanukkah decor in the alcove.  The atrium had our big WF food drive container.  Finally, this is a novelty I had never seen: the door handle in the ladies' room has a hand sanitizer dispenser on it. In cold and flu season, this is a great thing.  Pics below.
We haven't done a poll in a while, so I thought it might be fun to see which day your Deac left/will leave for Winter Break.  Take the poll here, and I'll post results if I get a lot of responses.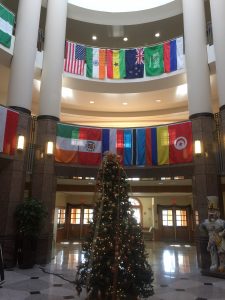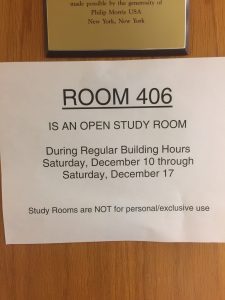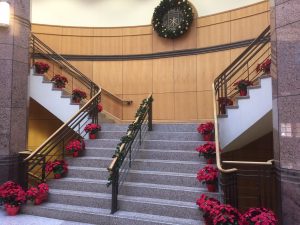 Recent Posts
August 12, 2020

August 11, 2020

August 10, 2020