Main Content
Late Night Breakfast was lastnight – free food in the Pit from 10-midnight.  My shift was not until 11, but I am told that there was an enormous line at 10 and the place was packed. We served breakfast foods – french toast (which went fast and ultimately ran out), turkey bacon, scrambled eggs, potatoes, biscuits, gravy, grits and oatmeal, and cereal.  There might have been more foods, but this was what I saw from my station.
My read of the students' faces lastnight was that they all seemed pretty chipper for finals.  Most of them just seemed so happy to be getting a free hot meal. The staff at my serving station would ask students what they were studying for, and I feel like I heard a lot of business courses, chem, philosophy, Spanish, and religion.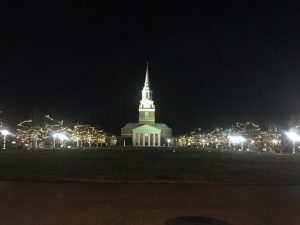 This picture is from the Quad at midnight.  The lights are still up from the Lighting of the Quad, there was a nice big moon, and you could still see the TP from our soccer weekend in the trees.  It was calm and peaceful and magical looking.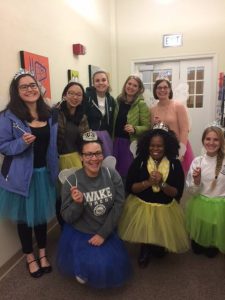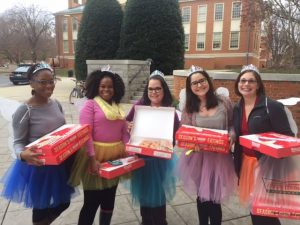 But fear not: Late Night Breakfast and Wake the Library's Midnight Munching are not the only games in town.  The University Counseling Center has a tradition of dressing as the Counseling Fairies during finals.  Tutus, wings, wands and all.
My sources tell me that the fairies have been busy over the last day, giving out pizza in South Campus residence halls, doing guerrilla donut delivery in the ZSR Library, and that evidently there is still more fun to come!  The students always appreciate free food, but a few kind words from staff in costume is always a mood lightener.
And finally a correction from yesterday.  Some of the OPCD spring events were listed without dates in yesterday's Daily Deac.  The full list is below.
Career Fairs:
Spring Career Fair: January 18, 2017, Noon-4 p.m., Benson 401
Health Professions Fair: March 30, 2017, 11 a.m.-2 p.m., Benson 401
Networking Events:
STEM Slam: February 8, 2017; 6 p.m., Farrell Hall
Creativity Slam: February 15, 2017, 6 p.m., Scales Fine Arts Center
Go to Market Opportunities/Career Treks:
New York City Career Trek (Media & Communication, Digital Marketing, Sports Marketing): March 8-10, 2017
Career Education Events/Workshops
These are a few of the upcoming events; students should monitor Handshake for events and to RSVP:
Internship Search Strategies: Wednesday, January 25; Tuesday, January 31; Thursday, February 9, all at 4 p.m., locations TBD (see Handshake)
Making a Major Decision: Tuesday, January 31; Wednesday, February 1; Thursday, February 2, all at 4 p.m. in Reynolda 230, OPCD
Dining Etiquette: Thursday, February 23, 5:45 – 7:30 p.m., Magnolia Room
Finance Careers Colloquium: February (Date TBD), Farrell Hall
Wake on Break: Wednesday, March 1, 4:30 – 5:30 p.m., Reynolda 230, OPCD
Recent Posts
August 5, 2020

August 4, 2020

August 3, 2020