Main Content
Big, big sports weekend for our Deacs.  Our football team got a bowl bid to the Military Bowl in Annapolis, MD on December 27th.  We'll be facing the Temple Owls. For those of you in the DelMarVa area looking for something great to do after the holidays, think about supporting the Deacs at the Military Bowl!
Knowing I can't run down every single sport, I'll mention the two games I actually saw.  Men's basketball was at Richmond this weekend and got the road win against the Spiders 75-67. For the alumni families among us, how happy are you to see Randolph Childress' son Brandon on the team?!?  While he did not have a great scoring game, there is a well-loved story about Randolph being sent in as a young player and missing several shots, then telling Coach Dave Odom "Don't take me out – I'm hot!"  I will never, ever bet against a Childress.  Good things will come.
And last but certainly not least, my beloved men's soccer team played a humdinger of a game on a very cold Saturday night, beating VA Tech 2-0 on two great goals by Ema Twumasi.  It was the most physical soccer game I have seen in a while, begging the question from the fan next to me: "Did the ref forget his yellow card at home?" Because he sure wasn't calling what appeared to me to be plentiful fouls.   Our men are now headed to the College Cup in Houston, and if you are a Texas family anywhere nearby, I hope you can go and cheer on our team.  I will have to settle for watching it from my couch.  As my husband is fond of saying, "All I want is for them to win their last game." 🙂
So that's the sporty side of things (and you can see full coverage of all the sports on wakeforestsports.com).  The big campus event yesterday was the Lovefeast. It was a rainy night, which really is a bit of a bummer because it did not allow for the normal display of Quad luminaries to light your way for a slow, lovely stroll to Wait Chapel – instead, people were dodging the rain.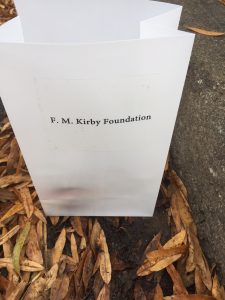 Speaking of luminaries, there were *4,000* of them lining the entrance to campus from both the University Parkway entrance and the Reynolda Road entrances.  Each bag had the name of a person(s), business, or foundation who had donated to the Wake Forest Fund in the past year.  Inside the bag was a can of food (which will be donated to a food bank) and a mini votive.  At night when you drove onto campus, it was a really impressive sight.  Here's an example of one of the bags.
Then there is the service itself, which is always beautiful. For students who attend, the Lovefeast tends to be one of their fondest memories. You go, you sit with your friends, you feel happy and peaceful and in community with 2,400 others there, and you feel hope.  And a preview of things to come: once you leave Wake, you will never smell beeswax candles again and not think of Mother So Dear.
I was delighted to receive an email from a '19 that I know about the Lovefeast.  The quote and the pic are used with the permission of the young ladies.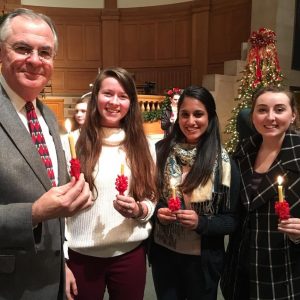 "True to form, Lovefeast was amazing.  My two best friends from freshmen year and I agreed that we would always attend together, and we even managed to get a picture with President Hatch this year.  It was the greatest moment of my life, and it marked the perfect end to the greatest weekend of my life.  Endless adventures, including a trip to the Biltmore, which was decorated for Christmas."
If you missed the Lovefeast, you can watch it online.
Recent Posts
August 5, 2020

August 4, 2020

August 3, 2020