Main Content
Happy Black and Gold Friday, Homecoming edition!  We are looking forward to welcoming alumni from classes that end in 1s and 6s who are celebrating their reunion years, especially the "Golden Deacs" of the Class of 1966 who are celebrating their 50th reunion.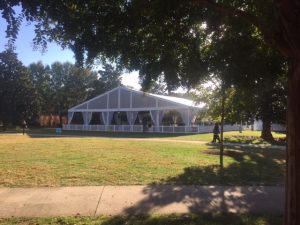 Your students are seeing a ton of Homecoming activity on campus.  Most notably are the tents and the big stage that have been erected on the Mag Quad (aka Manchester Plaza) for "Party So Dear" which will be held tonight from 4-7 pm.  Here is the Homecoming web site's description:
PARTY SO DEAR
FRIDAY, OCTOBER 28 – 4:00 P.M. – 7:00 P.M.
Manchester Plaza
The magnolias will be swaying to the sounds of The Spinners while we unveil a three-ton, nationwide surprise you won't want to miss.
I took some pictures of the tents and the stage, but because it was roped off – and given the angle of the sun at the time I was snapping the pictures – the shots are not great.
There is also a tent that is up on the Mag Patio just behind the Green Room of Reynolda Hall.  Homecoming registration for alumni is in the Green Room, and I bet the tent will be for reunion class parties tonight.
Your Deacs should definitely check out the Festival on the Quad tomorrow morning (Saturday) from 9am-noon.  There will be tons of free food, music, games, and other activities.  FOQ is always a blast – I know it is early for students to be awake, but hope they come out and enjoy.
In just a few short years, it will be their turn to come back to campus as alumni.  Can you believe it?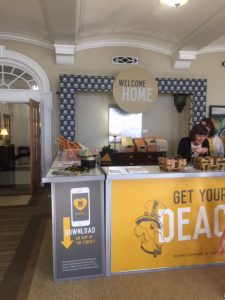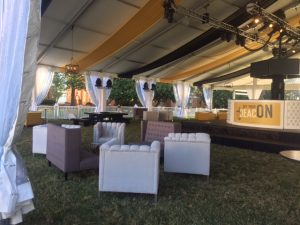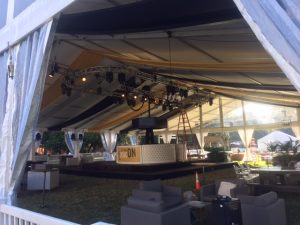 Recent Posts
August 7, 2020

August 6, 2020

August 5, 2020