Main Content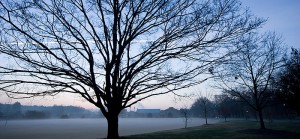 This morning on campus, Poteat field was covered in fog.  It was not that the air was foggy, it was that kind of fog where it is just mist hovering a few inches to a foot above the ground.  This is not a picture from today, but it is the same kind of foggy field I saw this morning.  It was early and peaceful and really beautiful. Wish some of your Deacs had been up early to see it.
There is a palpable sense of Fall Break coming on campus. Students seem sort of itchy and twitchy, and I suspect there will be some early departures with folks heading out tonight or tomorrow (if they think their course schedule will allow it).
But not everyone leaves campus for Fall Break.  It really only is just Friday off, so a three day weekend.  If your Deac is staying here and is looking for some suggestions of things to do, here are just a handful.
Head downtown.  There are tons of fun restaurants and coffeeshops and nice outdoor places like Bailey Park, which has events there (food trucks this weekend!)  My preferred spot downtown has always been Camino Bakery, which is great at any time of day in my opinion. Across the street is a/perture cinema; they have all kinds of amazing independent, foreign, and limited-release films.  My new favorite downtown eatery is Atelier on Trade, which has a proper French-trained baker who makes pastries so amazing they bring a tear to my eye. While on Trade street, your Deacs can check out all kinds of shops and art galleries too.
Take a hike.  That could be a short trek (walk from campus up through Reynolda Gardens and Reynolda Village), or it could be to head to Pilot Mountain or Hanging Rock, both of which are 30-40 minutes away by car, and offer great opportunities for beautiful scenery and invigorating exercise.
Drive down Reynolda Road. The prettiest place in Winston-Salem each fall is the stretch of Reynolda Road starting from the exit from campus, down past Reynolda Village and Graylyn.  The trees form a canopy over the road, and it is just a gorgeous sight.
Practice self-care of some sort. That could be downloading (and using) an app that teaches you mindfulness or to meditate, or getting a massage, or going to the dog park in town to pet some dogs, or sleeping an extra hour (or three).
We'll close today's Daily Deac with a feel-good moment.  Our Office of Alumni Engagement coordinated a food/supplies drive for the folks in eastern NC who were affected by the recent hurricane.  They drove the donated supplies there on the Streakin' Deacon bus and delivered them to folks in need.  A pastor from a local church posted a video of thanks, which is really heartwarming.  Many thanks to local alumni, parents, friends, and colleagues for making this happen.  Pro Humanitate at work!
Recent Posts
August 7, 2020

August 6, 2020

August 5, 2020