Let's start with a couple of mea culpas.  Yesterday I blogged about some of the sports victories over the weekend, and as I did, I remember thinking "I hope I don't leave anyone out" – which of course means I left someone out 🙁 (inadvertantly, I assure you!)  I have heard from some proud families connected to sports who mentioned that volleyball swept Buffalo over the weekend, and that Club Rugby had a huge win over East Carolina (as one Deac parent mentioned, whether D1 or club, these students practice long and hard and travel for games/meets/matches, so we want to give them a little love too!). And if any other group was left out, know I meant to include you!
Then my mea culpa #2 is that despite having two English degrees from Wake, I managed to miss a typo in the Wake Parents and Families e-newsletter that went out today. Sorry, all!
Let's move to better things. There are a couple of big news items happening on campus.  US News and World Report issued its annual college rankings.  Wake is at #27, and is rated #5 for undergraduate teaching.  You can read the full story here.  We've been in the top 30 national universities catergory for 21 years (and fun factoid: did you know that US News jumped us from the 'liberal arts college' category – where we were the #1 for many years – and put us into the national university category? I believe we are the only school to have been moved from one category to another).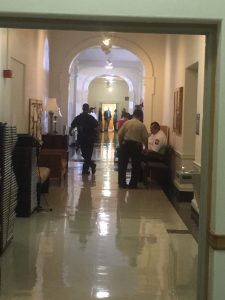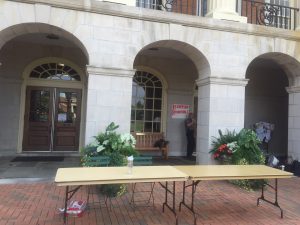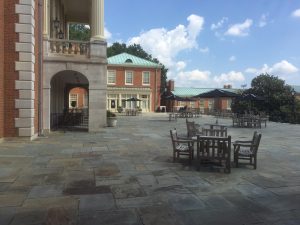 Chelsea Clinton was on campus today to do a Women In Leadership panel discussion. This was organized by Hillary Clinton's presidential campaign.  Because it was not a WFU event, I don't have much information on who got in or how tickets were allocated, but have been told that some of the guests were members of the local community.  It took place today in the Green Room of Reynolda Hall. I had to go to a meeting in Reynolda at 1:00, when it was happening, and my impression was that other than having some police officers stationed at the front of Reynolda, it was pretty much business as usual.  You could not go in the front entrance, but the other entrances were fine.  There were some officers stationed inside too, but generally speaking it was no biggie (see pics).  I heard from one attendee that it was a terrific panel, but didn't have time to get much more detail.
Finally, this crossed my inbox and it is worth a mention here. If you have a Deac who likes to garden, is interested in service, cares about sustainability, and/or is just looking for a way to meet some new folks, volunteering in the Campus Garden might be a great option.  Details below:
Campus Garden
Sundays, Wednesdays, Thursdays from

3:30 – 5:30 pm
Campus Garden @ 1141 Polo Road
Get your hands dirty and come out to the Campus Garden to get started on preparations for the next growing season.Not sure how to get there? If you're walking from campus, the best way to get to the garden is to walk through Lot Q (towards North Campus), in between Magnolia and Dogwood Residence Halls, past Polo Residence Hall alongside the soccer field, and out the gate to Polo Road. Once on Polo Road you'll see the yellow and red Campus Garden sign.
This semester, campus volunteer hours are as follows:
Wednesday
: 
3:30 pm-5:30 pm
Thursday
: 
3:30 pm-5:30 pm