It's the end of the week, and I bet your students are happy to have a couple of days off.  There is always a special kind of happy energy on a Friday afternoon, when the weather is good like today (sunny and a bit warmer than I'd care for, but it beats rain!), and you know you can be off duty for a while. We all need a break after a long week.
Because it's Friday, and because our new P'20 families are still acclimating to the ebb and flow of the Daily Deac, I'll repeat an oft-mentioned recommendation: call your students today. You can click here to read some of the reasons why – but the short version is that when students talk to their parents or loved ones on the weekend, there is a decreased chance of risky behavior that weekend.
In terms of what's happening on campus, I will confess that from my office I've been peeking at the Quad Cam.  I found a circle of students playing some kind of game with a ball (probably a soccer ball). It looks like they are trying to keep it in the air using their knees, heads, or feet, but not hands. Occasionally they all run and scramble all over the Quad. Sometimes someone picks up the ball and pelts another person with it.  Not sure exactly what the game is or what the rules are, but it has been fun to watch. They seem like they are enjoying themselves. Pics below.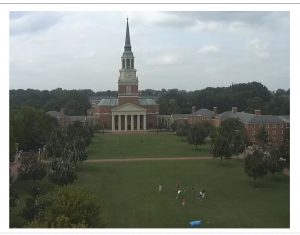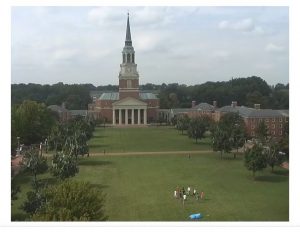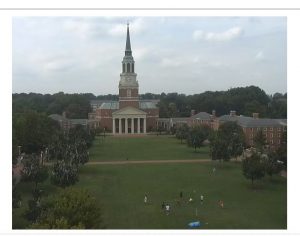 Tonight at 5:30 is the World Cultural Festival, which normally features international food as well as performances. I saw signs earlier on campus that there is a soccer game tonight at 7 (women's soccer if I recall correctly). This would be a great night to go out and enjoy the game and the nice weather.  Football hosts Delaware tomorrow at 6:30 and the forecast for that game looks good too (again, if a bit warm. Stay hydrated, Deac fans).
And to all of you who are out there wearing black and gold or WFU apparel because you believe – as I do – in Black and Gold Friday, I will tell you what my 84 year old P'92 mom would say: "You get a two-tiered halo!"
Have a great weekend, my Deac families!