Spring Break is next week.  The break comes right after midterms, and students will be ready for a break.  Some of them might come home to you to visit, others might go to the beach (either in the US or the Caribbean).  Some will go on Wake Alternative Break for service projects.
If your Deacs are planning to travel for Spring Break, you probably want to talk about spring break safety with them.  University Police and other campus offices are hosting a Safe Spring Break info session this Thursday, March 3rd (see details).  If for some reason your Deac can't go to the Safe Spring Break program, we surfed the web and found some resources and advice below.
General info: the web site youngadults.about.com has some guidelines for things parents and students should discuss well before spring break.
Personal safety: the parenting web site Sheknows.com offers some good guidelines, covering topics such as:
"Stick with friends you know and trust. Never go out alone or leave a safe place with strangers. Even if you meet people or locals on your trip and they seem friendly, they might not have the best intentions. While indoors, also be careful of going into closed spaces such as elevators and stairwells by yourself.
Be a stranger. Don't give out personal information, or tell strangers what hotel you're staying in or where you're going.
Drink responsibly. If you consume alcohol, make sure you get your drinks directly from the bartender or a person you know and trust. Don't leave your drinks unattended.
Go with your gut. Be aware of your surroundings. If you feel like something is amiss, trust your instincts. If you're being followed, the Office of International Education at the University of Richmond suggests, "Step into a store or other safe place and wait to see if the person you think is following has passed. Don't be afraid or embarrassed to ask someone to double-check for you to see if all is safe. Display confidence. By looking and acting as if you know where you're going, you may be able to ward off some potential danger."
Lock up. When going to the beach or pool, leave important valuables and documents (especially your passport) in your hotel's safe deposit box, not in your room.
Stay safe in your hotel room. A spring break safety tip sheet from Longwood University recommends the following: "Ensure there is a peep hole in the door and that the dead bolt and other locks are in good working order. Never open your door to anyone you do not know. If the person states they work for the hotel, call the front desk and confirm this before allowing them entry."
Choose transportation wisely. Use recommended shuttle services or buses to get around. Only use reputable, licensed taxi services."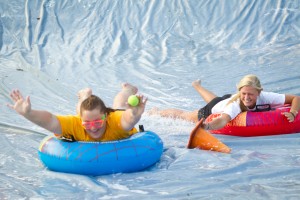 And from me  – don't forget the sunscreen!  Getting a bad sunburn now can be very bad for your health later in life.
Finally, a reminder that not everyone leaves campus for Spring Break. If your Deac is staying here, he or she should take note of the Dining Hours of Operation, as dining venues and availability are adjusted.  There is also a Grocery Store Shuttle this Friday.
Power through those midterms, students! Relief is coming this weekend!
— by Betsy Chapman