It is a very, very cold day today.  The high is only supposed to reach 50, and there has been rain (or threat of rain) all day, which makes the cold feel that much more biting.
Had business in the main part of campus today and visited both Benson and the ZSR.  Starbucks was pretty empty for 10 am, which is a testament to the rainy, cold weather.  Students all looked pretty purposeful and subdued.  Lots of rainjackets, jeans, and boots.  Bad weather brings out sensible and functional clothing.
There are a couple of things coming up related to Halloween worth mentioning.  First of all, Project Pumpkin is tomorrow!  That is one of the best days on campus.  Our students create a safe and fun carnival-type experience for local schoolchildren who need a safe place to trick-or-treat.  Nearly 1,000 kids come on to campus in their costumes and visit stations all around the Quad to play games, win prizes, and of course get candy!  Our students work really hard on making it a wonderful time for the kids, and it is a terrific example of Pro Humanitate at work.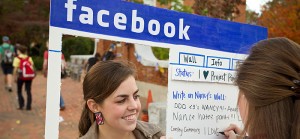 It's fun for our students too – they get to dress up in costume, and some of them are really clever. This photo is from a few years ago, but this intrepid young lady had what I thought was the best costume ever – she was her own Facebook wall.
Halloween can also be time for students to raise the roof, and frequently students want to do so at parties or by heading down I-40 to Chapel Hill to celebrate on Franklin Street (evidently it is a big to-do there).  Because of the convergence of Halloween and the last home game before Thanksgiving, my colleagues in Campus Life are trying to ensure that students are minimizing the risk of harm to themselves or others, especially in regards to alcohol.  They are doing a number of things on campus to promote responsible behavior, but they also wanted to reach out to parents.
The following email was sent to all parents for whom we have a valid address today.  Here is the text of the letter.
Wake Forest students tend to be responsible young adults, however, there are times and events during the year that are particularly concerning with respect to alcohol use. Among those are student tailgating at the last home game of the season (traditionally a time when seniors attempt to drink dangerous amounts of alcohol), Halloween, and "recovery" from mid-terms. This year these three events collide the weekend of October 30 – November 1.
Campus Life staff are actively engaged in prevention efforts including alternative (non-alcohol) events, social norm marketing (which corrects the perception that "all" students are engaged in the high risk use of alcohol), and bystander education (to teach students how to recognize and respond to their friends who are drinking too much).
One important prevention strategy involves parents. Research has shown that parents are one of the biggest sources of influence on their child's drinking habits. Conversations with your student can help reduce the risky use of alcohol, and we encourage you to speak with your son or daughter about your concerns about their use of alcohol, especially in a risky manner.
An excellent resource which gives tips about how to have these conversations as well as more detailed information about alcohol use and abuse in college students is "College Parents Matter … Have the Conversation" produced by the Maryland Collaborative to Reduce College Drinking and Other Problems.
Visit Website »
Thank you for partnering with us to help keep your student safe and healthy!
Cecil D. Price, MD
Director, Student Health Service
Malika Roman Isler, PhD, MPH
Director, Office of Wellbeing
Parents, you really do have a lot of influence over your students.  Please encourage them to be safe and careful with their health and to be good neighbors and watch out for others who might be engaging in dangerous behavior.
— by Betsy Chapman