I got this email below and it caught my eye on two fronts: 1) there is an opportunity for students who want to get involved in a leadership capacity with a campus project, and 2) there is also an opportunity to students who want to pitch a Big Idea for this project.  Either way seems like a win.  Share as appropriate with your Deacs.
*Do Something Challenge Executive Board Application*
How would you change the world with $5000?
This was the question posed to students in last year?s first ever Wake Forest Do Something Challenge. The event, which is co-hosted by the Center for Innovation, Creativity and Entrepreneurship and the Pro Humanitate Institute, is excited to announce the *2015 Do Something Challenge. *
With this being the second year of the challenge and the *FIRST year run by students*, we are seeking innovative and passionate students to apply to the *executive team*. Do you want to create new traditions at Wake and develop an incredible event? Do you want to meet inspiring people that are working to generate a positive social impact on the community through creativity and unmatched passion?
The Do Something Challenge is a competition where students are asked to give a two minute pitch of what they would do with $5000 to create positive social change. This opportunity is entirely unique as it does not require a business plan, research, or even a fully developed idea. It is an
opportunity to fund those internal bursts of insight that inspire each of us to want to make a difference.
The event will be held on *November 19th, *students applying must be available on this day. Students should understand there is a time commitment associated with being a member of an executive team planning a large event.
This is the opportunity to be a crucial member of the founding team that is starting a powerful and fun tradition that truly does make the world a
better place.
*Apply for the executive team now! Applications are due by September 20th.* –
https://docs.google.com/forms/d/1THyik67eyPhgyv0Mjw6BozUx1TQAVInCxOPZHVeEx74/viewform?c=0&w=1
And this is a wonderful feel-good story about sibling Deacs.  I don't want to give it away, but here is a teaser from the Wake Forest Magazine:
For more than two years the secret letter lay in wait — stealthfully stashed amid the stacks of the Z. Smith Reynolds Library. The writer, having completed his Wake Forest degree and moved on, left it behind. The intended recipient — well, she had yet to arrive. But he knew one day, if she came to Wake Forest, she'd find it there. That was his plan.
Blake Briggs ('13), the big brother and writer, and Morgan Briggs ('19), the little sister and intended recipient, had always been close. Growing up in Knoxville, Tennessee, they were seven years apart in age but grew up kindred spirits.
You can read the full story here.  It's a great one.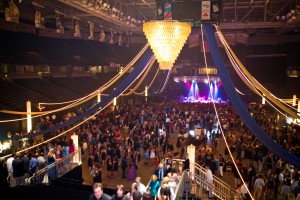 Your students got an email invitation yesterday to the President's Ball.  That's a fun event – they should go.
— by Betsy Chapman