It was a hot one yesterday, but with every passing day in September, we get a little closer to fall.  So here's a few fall things your Deacs can look forward to.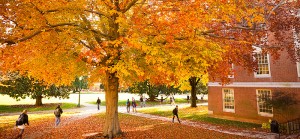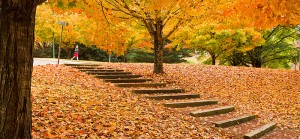 Fall leaves – Wake is glorious and transcendent in the fall.  Typically the best of our fall leaves come around mid-to late-October or early November.  So it is likely you won't see their full glory during Family Weekend, but you'll get a taste of it.   My favorite fall leaves spot is Reynolda Road near Reynolda Village.  The trees form a canopy over the road and it is a gorgeous drive down that stretch of road.
Cooler weather in the great outdoors – Your Deacs will be able to see the fall splendor on our own campus, by taking a walk through the woods on the walking path to Reynolda Village and Reynolda Gardens, or by taking a drive up Highway 52 and hiking at Pilot Mountain or Hanging Rock.  If they want to venture farther away, the Blue Ridge Parkway is about an hour and a half from campus and makes for a great day trip.
Dixie Classic Fair – held at the fairgrounds just behind the LJVM Coliseum, the Dixie Classic Fair had over 300,000 visitors last year.  There are carnival rides and all sorts of food (and crazy food at that – fried butter, fried oreos, fried snickers bars, etc.)  Your Deacs can go from October 2-11.  It costs $ to buy rides for tickets, but they could get free general fair admission on one day if they bring canned food.  Even if your Deac isn't a fair kinda gal/guy, it is great people watching. Details here.
Seasonal food – everyone knows about Starbuck's Pumpkin Spice Lattes, but Dewey's, our local (and FABULOUS) cake bakers will start making pumpkin spice cake squares starting October 1st.  Dewey's is quite close to campus, just off Reynolda Road in the Reynolda Manor shopping center.  And Krispy Kreme will also be offering seasonal favorites – from footbal shaped donuts to pumpkin flavored ones.
I'm ready for jeans weather and crunchy leaves on the ground and a good stiff fall breeze.  Are you?
And we'll close today with a bit of business from our friends in Campus Dining:
Dining Update
This is a friendly reminder that the last day to upgrade your students Meal Plan is September 15th! You can also add Food Dollars or Deacon Dollars to your students account through our website at www.wakeforest.campusdish.com at any point during the semester.
by Betsy Chapman